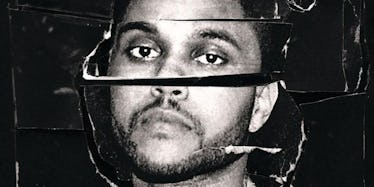 How The Weeknd's 'Beauty Behind The Madness' Introduces A New Genre
Life taught me a few things about love, but The Weeknd's second debut album, Beauty Behind the Madness, resonates deeply.
Abel Tesfaye, who goes by The Weeknd onstage, has skills that go beyond a plaintive voice. He writes and produces most of his own work, which continues to influence and shape the rhythm of life for our generation.
And although it's premature to include him in the same stratosphere as Michael Jackson, he has the potential to become one of the biggest stars of our time.
His newest project is worth spinning a few times, and it reassures us there's a good reason Tesfaye headlined Coachella this year, performed at the launch of Apple Music and the 2015 MTV VMAs, and will appear with Beyoncé at Made in America this September.
Maybe even the NFL will offer him a deal to perform at the Super Bowl Halftime Show, if it isn't concerned by his explicit lyrics about sex, drugs, love, addiction and loneliness.
He begins the album singing,
"Heaven only lets a few in It's too late for me to choose it Don't waste precious tears on me, I'm not worth the misery I'm better off when I'm alone"
He sings about these topics in a smooth, soulful voice, with a rhythm that could induce a trance. It makes the listener drunk with curiosity about whether his lyrics are fictional, or if he writes with fidelity and honesty.
His view of the world and life is encapsulated in his songs, and it sounds like his recording studio is in a brothel connected to a trap house, like when he rhymes,
"I'm that n*gga with the hair Singing 'bout popping pills, f*cking bitches, living life so trill"
In the Kanye West-produced song, "Tell Your Friends," Tesfaye shows his acute self-awareness, and he uses his emotional states as insight into the truth about his life and the people around him, including his cousin who takes a selfie at his grandmother's funeral.
He glamorizes drugs and balances tales of getting high, popping pills and sex with back-in-the-day stories of being poor, homeless and stealing Jordans to resell them and buy women cocaine.
Being drunk or high makes him, like everyone else, less fearful and more tolerant to pain.
But, those states also bend reality by placing his consciousness in a world of heightened sensations, where it's difficult to fight the urge to self-medicate, ignore impulses and find true love.
It's not surprising that he dismisses love by saying, "They told me not to fall in love, that sh*t is pointless," which he repeats a few times.
In "Losers" and "Aquatinted," Tesfaye sings, respectively, "So what can you show me/ That my heart don't know already" and "To say that we're in love is dangerous/ But girl I'm so glad we're acquainted."
In "Dark Times," which features Ed Sheeran, Tesfaye gives the listener goose bumps with, "This ain't the right time to fall in love with me/ Baby I'm just being honest."
He reminds the listener that erotic addictions can turn into love, even though love, to our generation, is mostly a transaction between two people who are emotionally colorblind and selfish.
Love has almost been reduced to simply out-executing your competitors because of cultural and economic shifts.
Tesfaye's music brings out a certain part of your personality, especially when he sings with Lana Del Rey in "Prisoner,"
"Maybe I've been always destined to end up in this place, yeah I don't mean to come off selfish, but I want it all Love will always be a lesson, let's get out of its way"
For a long time, Tesfaye built a mystique around his identity like Banksy. He remained anonymous as he uploaded audio files to YouTube and released three critically acclaimed mixtapes: House of Balloons, Thursday and Echoes of Silence.
Tesfaye then went on tour with the mixtapes, selling out arenas and singing about the usual bouts of despair, euphoria, love and lust.
In Beauty Behind the Madness, however, Tesfaye is forced to surrender some of his mystery, especially since he opens up about his life before and after fame and wealth.
Tesfaye is the next face of R&B and pop, and he did so by creating a whole new genre that can be described as alternative R&B. Beauty Behind the Madness is raw, captivating and beautiful, and it's a record of the issues our generation experiences.
The Weeknd found a good fun-to-hangover ratio, but it still seems like he suffers for his art, advocates for the beauty in human sins and reminds us that reality is visceral and complex.