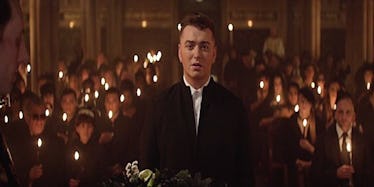 Sam Smith's New Video Provides Powerful Marriage Equality Message (Video)
Soulful crooner Sam Smith is breaking down barriers.
In a new music video for the song "Lay Me Down," Smith's character marries another man at the altar of a church.
The video, which Rolling Stone reports was filmed in a church just outside London, imagines a future in which all religious institutions allow gay weddings.
Smith, who is gay, confided to his Facebook followers the video represents a lifelong dream of his.
Smith told the magazine the scenario feels normal to him, adding,
I'm walking in, I'm going, 'Why? Why are a man and a man not allowed to get married in this room?' Because it's the most natural thing.
Naturalness aside, this video is sure to spark controversy unlike any the young singer's has faced so far.
Citations: Sam Smith on Controversial Lay Me Down Video Were the First Ever to Do It (Rolling Stone )