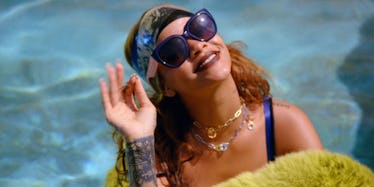 Forget Drake, Rihanna Should Have Been Nominated For Grammy Album Of The Year
YouTube
On Sunday, February 12, five musicians will attend the Grammys at the Staples Center in Los Angeles with the hopes of winning the most prestigious award of the night, Album of the Year.
And Rihanna is not one of them.
On December 6, 2016, the nominations were announced by The Recording Academy, and just like something else in 2016, popular opinion and the electors were not on the same page.
Perhaps the members of The Recording Academy have lost touch with their voting criteria, which explains the point of awards given by them are to "honor artistic achievement, technical proficiency and overall excellence in the recording industry, without regard to album sales or chart position."
With all of that in mind, how on Earth did the Grammys miss Rihanna's Anti?
Widely received as her most expressive body of work, Anti was acclaimed by critics around the world as a masterpiece in its own right, appealing to more audiences than ever before.
With cleverly crafted melodies, accompanied by provocative visuals, Rihanna proved she has evolved from a pop princess to a R&B queen.
Anyway, most of the artists nominated make sense with that standard in mind.
Adele's third album, 25, once again ensnared audiences and critics alike, exposing her vulnerabilities through epic love songs.
Take a look at the following lyrics:
I know I'm not the only one Who regrets the things they've done Sometimes I just feel it's only me Who can't stand the reflection that they see I wish I could live a little more Look up to the sky, not just the floor
Yes, it's evident songwriting is Adele's strong suit, but then again it always has been.
Beyoncé is also nominated for Album of the Year.
This comes as a shock to absolutely no one because Lemonade was groundbreaking. So groundbreaking, in fact, it should really be evaluated in the Best Visual Albums category, but there isn't one.
The lyrics in the album aren't particularly noteworthy, but just about everything else is.
The Grammys have yet to award her in the Album of the Year category, despite being nominated multiple times.
Justin Bieber is also nominated for his triple-platinum album Purpose.
Though the critics were highly varied in their reception of this album, his fans were not.
The album was a huge success in the US and around the world, boasting a few hit singles in "What Do You Mean?", "Sorry" and "Love Yourself."
This album also finished in the number three spot on Billboard's Top 200 Albums, just below Adele's 25 and Drake's Views – which we will come back to.
Some might believe Sturgill Simpson's A Sailor's Guide to Earth is the odd outlier, but this album was ranked higher than every other album on this list, with a whopping 86/100 on Metacritic's scale.
And though I personally am not a fan of country music, this album was able to do what many other country artists are unable to: captivate me.
His honey sweet vocals and expertly curated instrumental tracks transcend the country genre and reach a wider audience.
The Recording Academy clearly also felt the passion in Simpson's silky smooth voice. Or maybe they heard the violin and started crying like I almost did.
And finally we have Drake's album Views. 
Exclusively looking at the numbers, this album was a chart-topping hit.
Debuting at number one on the Billboard 200 chart and achieving over 1.4 billion streams, to say Drake had a successful year would be an understatement.
The problem with this is, just because more people hear your music, doesn't make you the best. Critics regarded Drake's fourth studio album as "lacking" and "tired."
MTV's Meaghan Garvey said this was probably due to his "unwillingness (or inability) to significantly evolve beyond his time-tested signature sound."
The Daily Telegraph's Neil McCormick blamed it on his "lack of genuine awareness and apparent absence of emotional growth."
Andy Gill from The Independent said "rarely has one man moaned quite so much about so little."
This isn't to say Views was total garbage -- because it wasn't. The album had some bangers.
But it can't win Album of The Year if it wasn't even the best album to come out in April.
So with mixed critics' reviews and tired hooks, what could have been behind The Recording Academy's egregious blunder?
Nice try Drake, Views doesn't even come close.
And to Rihanna, we are sorry you got robbed, maybe next time they'll keep you in "Consideration."