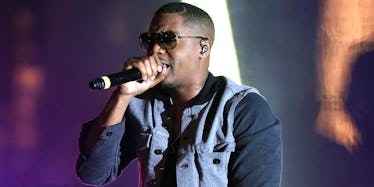 12 Rappers Whose Featured Artists Wrecked Them On Their Own Sh*t
Getty Images
Before we get to the hip-hop, listen to this song:
Most of you will already know it; it's "Layla" -- one of the most iconic rock and roll songs of all time.
The song is billed as a "Derek and the Dominos" record, which was Eric Clapton's band during the early 1970s. Clapton wrote -- and performed -- the song, although not without some help.
While many of you probably already know the song "Layla," what's much less known is that it also featured Duane Allman -- who played guitar alongside Clapton on the song. When I first found this out, it dawned on me that it was probably the greatest guest feature of all time.
Today, features aren't much of a big deal. I mean, whenever a hot new hip-hop song leaks to the Internet, it usually contains about two or three big names on it. In a way, I feel as though, over time, we've lost the sentimentality of what a feature is.
Back in the day, it was more than just "doing a song together." A feature provided a means of leaving your own unique imprint on another person's work -- like Allman did Clapton (despite the fact that most don't realize it).
So I did some digging and compiled some of what I thought were the most noteworthy features in hip-hop history.
1. Nas on Raekwon's "Verbal Intercourse"
Nas' verse on "Verbal Intercourse," in my mind, is one of the most iconic verses in all of hip-hop. Aside from it being one of Nas' greatest all-time verses -- including his solo work -- it also marks the first non-Wu-Tang affiliated feature on a Wu-Tang-related album.
On one of the most cinematic albums of all time -- Only Built 4 Cuban Linx -- Nas steps in seamlessly and laces this RZA track with a verse that harmonizes perfectly with the ambience that Raekwon and Ghostface Killah create throughout the entire piece of work.
2. Drake on Rick Ross' "Stay Schemin"
On this track, Drake shines the brightest -- penning a number of quotable bars that kept listeners coming back, simply to scream "BITCH, YOU WASN'T WITH ME SHOOTING IN THE GYM."
Rick Ross released the single in 2012 and included it on his mixtape "Rich Forever," despite Rozay only spitting like four bars, himself. Nevertheless, this record became one of the hottest songs of 2012, and I think we all know why.
3. Kendrick Lamar on Big Sean's "Control"
When it comes to "outshining" another artist on his own song, Kendrick Lamar took this idea to new heights when "Control" dropped the summer of 2013. To put his killing into perspective, this video of just Kendrick's verse alone has more YouTube views than the entire song.
Not only did Kendrick rap more impressively on this song than did his fellow rappers Big Sean and Jay Electronica -- but he also shook up the game in the process.
I remember reading that when Kendrick Lamar sent Big Sean his verse (prior to the song's release), Sean actually stopped and thought about redoing his verse after listening. I guess that's the type of response he was looking to provoke by name-dropping a bunch of the game's biggest stars, including Big Sean, himself.
4. 2Pac on Scarface's "Smile"
I got into 2Pac at a very young age -- sometime in middle school after discovering the Wu -- and for many years, I considered "Smile" to be among my favorite Pac songs.
I didn't realize until years after that the song -- and verse -- that what I was so fond of was actually released on Scarface's fourth album, The Untouchable.
In one of the last sessions 2Pac recorded before his death, Shakur spills his guts into rhymes, as he does so poetically, across two introspective verses. It's just a beautiful song, really.
5. Andre 3000 on Frank Ocean's "Pink Matter"
I love channel ORANGE, Frank Ocean's debut album. It's an entrancing album from start to finish, from both a lyrical and musical standpoint -- entirely produced by Frank Ocean, himself.
After playing the album through, the first time, I thought to myself -- man, I really want to listen to that track with Three Stacks one more time -- alluding to "Pink Matter," featuring Andre 3000.
And while the sound of the song is still so…."Frank Ocean sounding"...I think that 3000's verse is one of the album's many hidden gems.
6. Method Man on GZA's "Shadowboxin'"
Another feature on a Wu-Tang member's solo album here, but this time, it's fellow killer bee Method Man on GZA's legendary LP Liquid Swords.
While it's hard to say that GZA is ever truly outshined on a RZA beat -- especially one off his debut solo album -- I don't know, there's something about the way Method Man hits the beat on "Shadowboxin'" that makes it addicting to listen to.
7. AZ on Nas' "Life's a B*tch"
Most true hip-hop heads regard AZ's verse on Nas' classic "Life's a Bitch" as the Michael Jordan of guest hip-hop features. In other words, the greatest ever.
It's important to note that, outside of AZ's verse on "Life's a Bitch," Nas didn't include any other features on his debut album, Illmatic.
When you consider the fact that most true hip-hop heads will also regard Nas' Illmatic as one of the Golden Era's masterpieces, you'll really begin to appreciate the significance of such an exclusive guest feature.
8. Pimp C on Jay Z's "Big Pimpin'"
UGK, in general, outshined Hov on Big Pimpin', but Pimp C's verse is undoubtedly the gold-star winner.
Although short, the verse is certainly sweet -- showing off the late great's H-Town style in a way only Pimp C could. Kendrick Lamar actually slowed down the verse and integrated it into the hook of his song "Blow My High," found on his debut album Section 80.
9. Common on Mos Def and Talib Kweli's "Respiration"
How can you outshine both Mos Def and Talib Kweli on the same track? Well, you can't, in short -- but Common does about as good a job as you could on "Respiration."
Off the collaborative album, Mos Def & Talib Kweli Are Black Star, "Respiration" features a Hi-Tek beat and three stanzas of hip-hop poetry, all leading up to Common's final verse -- in which there is anything but a drop off in lyrical quality.
10. Action Bronson on Meyhem Lauren's "Typhoon Rap"
I mean, the way I see it, on any record that Action Bronson decides to rap on -- he shines the brightest. I don't think there's ever been a rapper who stimulates my mind as much as the Human Highlight Reel.
From obscure pop-culture references, to cooking tips, to sports folklore -- Action Bronson never lacks in creativity. And his verse on fellow Queens native Meyhem Lauren's Typhoon rap certainly has a little bit of everything.
11. Busta Rhymes on A Tribe Called Quest's "Scenario"
Although Nicki Minaj may have made the whole "rah rah, like a dungeon dragon" thing famous to most Millennials, it was first a part of Busta Rhymes verse on "Scenario" off Low End Theory.
While the Tribe usually needs no features, "Scenario" -- a classic posse cut -- is one of the exceptions to this rule, opening it up to many other members of their collective Leaders of the New School, but Busta shines with ease.
12. Eminem on Drake's "Forever"
Written for the soundtrack of LeBron James' "More Than a Game" documentary, this four-way collaboration featured the best hip-hop artists of the time (many of whom are still on top of the game today). And like LeBron James on the court, Eminem was on another level.
I mean, there's a reason Em goes last; try reworking the order of the verses and listening to anyone's part after Eminem's lightning fast word play. It would just pale in comparison.
Eminem reminded us firsthand why he's the top-selling rapper of all time on "Forever," because his verses make us all go nuts. Macadamia.