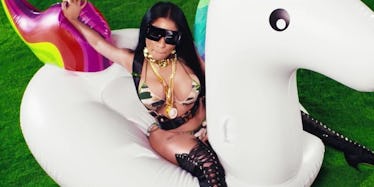 Nicki Minaj Grinds On A Unicorn In New Music Video And It's Super Uncomfortable
YouTube
Nicki Minaj is back with new music and a new love interest.
The music is a new collab track with Gucci Mane called "Make Love," and the music video dropped Wednesday morning.
The love interest is an inflatable unicorn that Nicki Minaj humps with abandon in said new music video with Gucci Mane.
Yep, you read that correctly, and yes, it is exactly as uncomfortable as it sounds.
Watch the music video yourself and you'll see what I mean.
The first half of the video is Gucci Mane doing your standard "rapping in front of an expensive house and half-naked women" thing.
That part is kind of boring, to be quite honest.
But then Nicki comes in for her verses...
...on a giant inflatable unicorn pool float.
Suddenly, I find myself wishing we could go back to Gucci Mane's boring mansion full of bitches.
Because Nicki just really goes for it.
Like, really goes for it.
She just straight up fucks that inflatable unicorn.
And I just straight up feel really uncomfortable.
And look, I'm not the only one, either. After the "Make Love" video dropped, Nicki started answering fan questions on Twitter.
And most of those questions — if not all of them — had to do with the fact that she was humping an inflatable unicorn.
To be fair, I give Nicki props for her answer to the fan who tweeted at her, "The people want to know: why was you humping the floaty sis."
Nicki replied, "Cuz I ain't got no man."
We also learned the inflatable unicorn's name is "Unicorn," and apparently Nicki was thinking of a human person while she simulated intercourse with it.
When a fan asked if there was a man she would replace the unicorn with, Nicki replied,
Oohhhh now we tawkin sis! #noComment #NiceTry *points behind u* next question pls *smiles like Hillary*
So that's something, I guess?
In other news, Nicki raps more about being the number one queen of rap best of all time, etc etc. She throws shade, too — she doesn't specify a name, but most people are assuming it was at rapper Remy Ma, considering those two are in a fight right now.
I feel like the whole "fucking a unicorn" thing kind of makes the shade less intimidating, though. I don't know. Maybe that's just me.