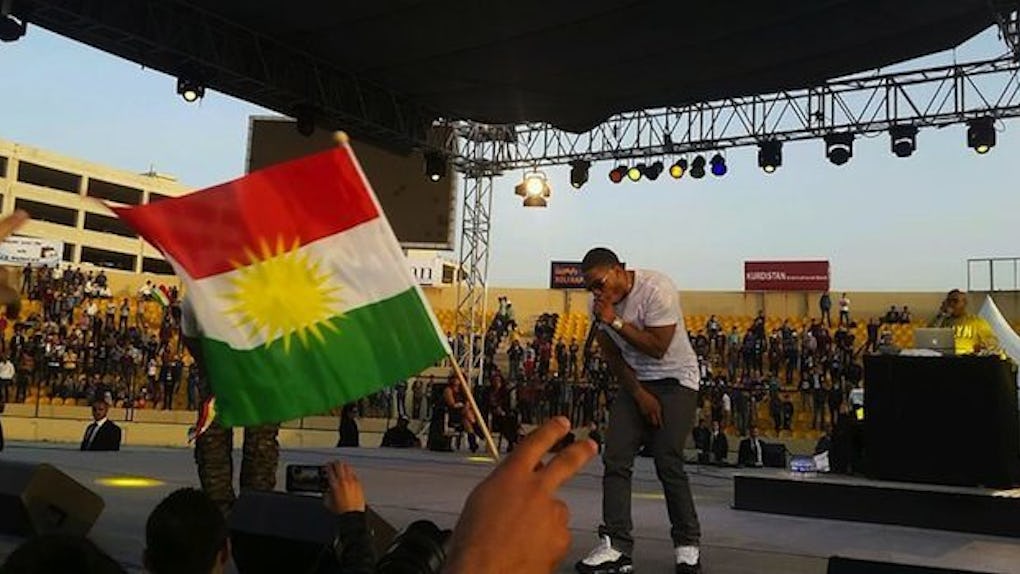 Twitter
Nelly Just Performed In Iraq. Yes, You Read That Right.
Nelly is back! In Iraq, though...
First American artist to come to Kurdistan...don't miss it pic.twitter.com/iQvBhmb3ei — Taban Shoresh (@tabanshoresh) March 12, 2015
The 40-year-old rapper-turned-cool-ass dad has been keeping it low lately, but who would've guessed he'd make his comeback with a show in Kurdistan?
Nelly live in #kurdistan #TwitterKurds pic.twitter.com/hsUunzW9yl — Wladimir (@vvanwilgenburg) March 13, 2015
Nelly in #kurdistan #iraq #twitterkurds pic.twitter.com/T8edXW4fHl — Wladimir (@vvanwilgenburg) March 13, 2015
They really do love Nelly in Iraq, and why shouldn't they? "Hot In Herre" is still one of the most-played songs in the country!
Nelly actually teamed up with the Rwanga Foundation for a charity concert during an annual soccer tournament where he gave dozens of onlookers the show of their lives.
According to spokesperson Zirak Hamad, Nelly performed the show free of charge. The proceeds of the show go to help refugees and "martyr families" in the fight against ISIS, so Nelly is basically fighting ISIS.
"We just paid the travel expenses and accommodation," said Hamad.
This short clip shows a brief bit of Nelly performing for the half-empty stadium.
Nelly has never let a little thing like ongoing war stop him from what he wanted to do.
Why would he stop now? He's one of the true professionals left in the industry.
Citations: Nelly resurfaces ... in Iraq (Mashable)