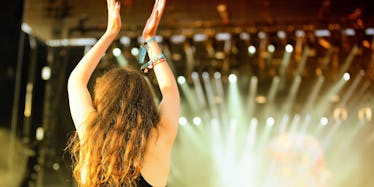 The Music Festival You Need To Attend Based On Your Zodiac Sign
Shutterstock
Music festivals are my shit.
I'm not afraid to admit I'm the girl with the flower crown and the obnoxious heart-shaped sunglasses you've been warned about via internet festival memes, but please bear with me.
Every year, I patiently await the release of summer and fall lineups and start counting pennies in preparation for the moment when I shamelessly splurge on a ticket to my favorite show.
Recently, my decisions have been becoming harder and harder.
Why?
Because there are SO MANY OPTIONS, and it's getting really freakin' difficult to figure out which lineup gets my heart racing the most.
Luckily, I've discovered the answers to all of my problems written in the stars.
HA. But really, here's a list of all of the music festivals you should attend based on your zodiac sign.
Aquarius: Global Citizen Festival
You love to make a difference and have a knack for helping others, so there's no question Global Citizen is the festival for you. Because in order to score a ticket to the big night, you need to earn it.
But, hey, there's no better feeling than hanging out in Central Park with the satisfaction that your presence alone is making a difference.
Especially when Rihanna is going to be there.
Pisces: Bonnaroo
You're super innovative and appreciate art like no other. Not to mention, you're friendly as hell and super gentle by nature.
There's no better place for you than the good old 'roo, so pack your bags and head to Tennessee in pursuit of living and breathing EVERYTHING creative.
Aries: Made in America
You're full of energy and naturally optimistic, so there's no better place to exude your appreciation for a good time than Made in America.
This Philadelphia-based festival is basically calling your name because you've got the musical stamina to enjoy an array of genres -- everything from Coldplay to Lil Wayne.
Rest up, because you're going to have one helluva night.
Taurus: Coachella
You appreciate beauty and are known for your sensual behavior, which makes the sexy, mystical, almost *untouchable* land of Coachella perfect for you.
Not to mention, you value materialism a tad more than others, which makes the glamorous Coachella lifestyle your haven when it comes to fashion and high-profile celeb company.
Get it, girl.
Gemini: Electric Zoo Festival
You're curious as a kitten, restless and always on the prowl for new adventures, so Electric Zoo is the festival for you and your wild heart.
You'll be able to experience a world unlike any other and let loose to electronic music on dreamy Randall's Island in NYC.
Meow.
Cancer: Newport Folk Festival
You're super low-key and prefer a more ~chill~ atmosphere than most.
You're also very affectionate and loving, which would make the soulful vibes of Newport Folk Festival perfect for you and your romantic ideals.
This year's singer-songwriter getaway featured artists like the legendary Patti Smith, Norah Jones, Alabama Shakes and more --  the perfect combination of artists for folks like you who appreciate heartfelt lyrics and good company.
Leo: Ultra Music Festival
You're the life of the party, Leo, and are often admired for your uncensored personality and undeniable attraction. You're super confident and love nothing more than having a good time.
Ultra Music Festival 2017 is calling your name because you'll get to party all night to bumpin' electronic music in Miami, the CAPITAL of confidence and crazy.
Virgo: Firefly Music Festival
You're a little more careful than others and pay close attention to detail. And, sure, you like to keep it a little safe, but you also value a great time.
Firefly gives you the perfect festival experience without completely turning your world upside down because you find a sense of comfort in the tight-knit community of festival goers who attend. You'll be able to get close to your fav performers without missing a beat (or losing your friends in the crowd).
Libra: Lollapalooza
You value companionship and seek relationships with intriguing people, and, of course, have a soft spot in your heart for good art and music.
This makes Chicago-based Lollapalooza the perfect festival for you because you'll get to experience kick-ass lineups with fellow creatives in a city where the possibilities of meeting new people are endless.
Scorpio: Desert Trip
You're insanely passionate and over-the-top emotional, which makes Desert Trip the festival for you.
With iconic acts like Paul McCartney, Bob Dylan, The Rolling Stones and more, this festival will overwhelm you with all of the #FEELS.
Plus, Scorpios are also super competitive, and scoring tickets to a once in a lifetime show like this could be a fun challenge.
Sagittarius: Burning Man
You've got a passion for traveling and crave culture, which would make Burning Man the trip of a freakin' LIFETIME for you.
Between the mind-blowing art installations, insane performances and unique displays of self-expression, you won't want to come back to reality because you'll be too busy soul searching.
Capricorn: iHeartRadio Music Festival
You're controlled, disciplined and have great planning skills, so what better city to attend a music festival in than Las Vegas?!
But seriously.
If you've got the control to enjoy yourself without letting loose in Sin City, then go for it!
The iHeartRadio Music Festival would be ideal for someone as organized as you because everyone on the killer lineup will be performing on one stage in the T-Mobile Arena, which makes for a less chaotic and all-over-the-place festival experience.
So there you have it.
Although some of these festivals have passed us by, there's nothing stopping you from planning for next year.