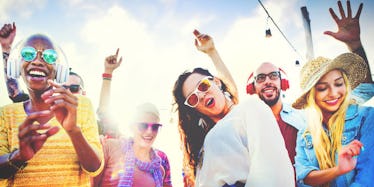 10 Music Festival Hacks That Will Keep You Going Strong All Weekend Long
Shutterstock
Music festivals are jam-packed with renowned artists, out-of-this-world food and crazy crowds.
And while attending one is usually an insanely fun experience, getting caught in a bind with an unforeseen injury or finding yourself too spent to even leave your tent will put a damper on your weekend.
But we've got you covered. Here are 10 hacks to help guide you through what's worth bringing, what to steer clear of and how to keep rocking through the weekend.
Bring energy-boosting snacks.
Justin's Almond Butter Squeeze Packets, $10, Amazon 
Nothing is less enjoyable than being hangry right before your favorite musician takes the stage, so make sure you have snacks readily available when your hunger starts to kick in.
Although junk food seems like the most convenient option (hello, nachos), it will likely leave you feeling bloated and uncomfortable, which means instant regret when you're wearing a crop top.
Instead, pack healthy portable snacks, like Justin's Almond Butter packets or Mamma Chia's Chia Squeeze pouches. You'll thank us for saving you the money (and calories) you would have spent on festival food truck fare.
Mamma Chia Squeeze Vitality Snack (8-pack), $7, Amazon 
Pack a first-aid kit.
Pinch Provisions Festival Kit, $22, Nordstrom 
Some people walk this earth with grace and poise-- and I'm definitely not one of them. So, I am constantly preparing for my next faceplant or red wine stain on my new white blouse.
Make sure your festival trip doesn't get cut short by a minor emergency. Pack a first-aid kit, like this Pinch Provisions Minimergency Kit. Stuffed with things like nail polish remover pads, earring backs and bandages, this kit will literally save you in just about every scenario, whether it's to help you look good or feel better.
Have a rainy day plan.
Gloomy, rainy days are not what first come to mind when you think of a music festival, but they do happen. And when the sky opens up, you don't want to get drenched in your gladiator sandals and fringe leather vest.
Make sure your essentials are safe from inclement weather by bringing a waterproof phone case, like a Life Proof case, and something to cover your shoes, like ShuBee covers.
Life Proof iPhone 7 Case, $39- $80, Amazon; ShuBee Shoe Covers, $33, Amazon 
I know it's not the sexiest look, but neither are plastic bags wrapped together in duct tape. Your call.
Bring a hangover cure.
The countless vodka Red Bulls will seem like a good idea as you're downing them, but you'll be paying for your actions the next day.
Nobody enjoys listening to music loud enough to blow your eardrums after a night hugging the (portable) toilet.
Aside from the obvious hangover tips -- like drinking a glass of water between each alcoholic drink and popping Advil -- try Blowfish tabs or Mercy Hangover Prevention drinks for that much-needed energy boost.
Blowfish For Hangover Tablets, $10, Amazon 
Save your battery (and your life).
OK, so maybe it's not actually saving your life, but it's saving your social media one.
Did you really even go to the festival if there's no proof on Snapchat or Instagram? You don't want your phone to die before doing its job of making everyone from high school wish they were you, so make sure you bring a portable phone charger.
Now you can focus on the things that really matter, like shooting a slow-motion video of that guy you just made out with who's now crowd surfing.
Shower wipes (because showering isn't always an option).
Nothing makes you feel worse than standing in a crowd of thousands of people when you haven't bathed in what feels like decades.
Shower wipes, like Action Wipes, will leave you feeling much cleaner and more self-confident. That also means less time waiting in line to be hosed down and more face time with your favorite artists.
Action Wipes (pack of 25), $25, Amazon 
Caffeinate, caffeinate, caffeinate.
As incredible as music festivals are, you're most likely not going to be able to order your Starbucks iced vanilla latte from the comfort of your tent.
Luckily, there are other ways to get your daily caffeine fix, like Nootrobox's coffee cubes. While they aren't the same as injecting coffee straight into your bloodstream, they're pretty much the next best thing.
GO CUBES Chewable Coffee, $25 for 24 pieces, Amazon 
Get jumping.
Getting your heart pumping is a surefire way to boost your energy and get those endorphins flowing.
Pack something portable, like a jump rope, a yoga mat or resistance bands and take 15 minutes to do a quick exercise as soon as you wake up.
Or, you can be like every other person at a music festival and bring a hula hoop (we know you secretly want to).
Don't forget to hydrate.
The last thing you need is to feel faint or dizzy as you dance along to your favorite song.
It goes without saying that the most important thing to do is stay hydrated, but for those who don't feel like chugging bottles of water, try Reviv Booster Shots.
These babies pack in the vitamin B12 to give you a natural energy boost and help regulate your immune system. Which is good, because nobody wants to party with the girl with the runny nose.
Look your best.
So you're well-fed, hydrated and basically an all-around festival goddess… but sleeping in a tent has you looking less #iwokeuplikethis and more #ratchet.
De-puff your complexion by bringing eye masks like Boscia's hydrating masks so you can use your selfie stick with reckless abandon.
Sake Brightening Hydrogel Eye Masks, $15, Sephora 
Slay, girl.