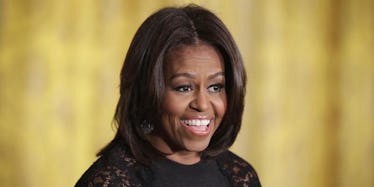 Michelle Obama Made An Amazing Playlist Full Of Girl Power Anthems
Getty Images
Believe it or not, October 11 is more than just Hallie Parker and Annie James' shared birthday, Lohan freaks.
Since 2012, it has marked International Day of the Girl, a cause for pride and celebration for many women and girls, including first lady Michelle Obama.
In honor of the holiday, set aside by the United Nations to promote worldwide gender equality, FLOTUS arranged a Spotify playlist of girl power anthems released on the White House's official Spotify channel on Sunday.
Contemporary favorites from artists like Beyoncé and Janelle Monáe mingle with classics by Aretha Franklin and Billie Holiday, 90s hits by Lauryn Hill and TLC and Broadway tracks from "Wicked" and "Hamilton."
Demi Lovato, whose track "Confident" is included on the rotation, gave the first lady a shout out on Instagram.
Though International Day of the Girl won't hit again for another 364 days, this playlist is about to carry plenty of people through their workouts, train rides, walks home and secretive, sweaty empty-apartment dance routines.
Citations: Listen to Michelle Obama's Girl-Power Spotify Playlist (TIME)