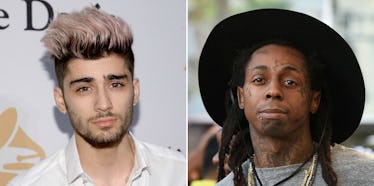 Lil Wayne Just Made Zayn's 'Pillowtalk' A Million Times Better
Getty Images
OK, I have to admit I wasn't a big fan of Zayn's "PILLOWTALK" when I first heard it.
I thought I was biased. After all, Zayn basically killed One Direction (we all know "hiatus" means they're done forever). And I will never forgive him.
Or maybe the lyrics were just so far removed (read: graphic) from anything I'd ever heard him sing before.
I don't know. I just wasn't a fan.
But "PILLOWTALK" just got a facelift that makes it 100 times better than the original. Zayn teamed up with Lil Wayne for the newest remix of his debut song, and I have to say, it's pretty damn good.
Yes, it's even more explicit, but Lil Wayne adds so much to the song. AND now we know for sure there's no bad blood involving similar album covers between the artists.
The same can't be said for the tension between Louis and Zayn...