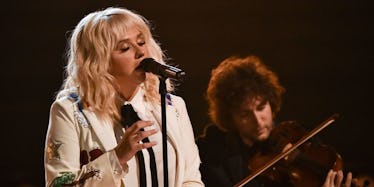 Kesha Has Dropped Her Sexual Assault Lawsuit Against Dr. Luke In California
REX/Shutterstock
It looks like Kesha's lawsuit against Dr. Luke is over. Well, at least in California.
It was reported yesterday that Kesha has officially decided to drop her sexual assault lawsuit against her music producer Lukasz Gottwald, also known as "Dr. Luke," in the state of California.
In an official statement, the singer's legal counsel, Daniel Petrocelli, said,
Kesha has dismissed her California action without prejudice while she pursues her appeal and other legal claims in the New York courts.
Petrocelli went on to say Kesha dropped the case because she wants to release new music and has sent 28 new songs to her record label, Kemosabe Records.
Kesha recorded those songs at her own expense, despite not being able to release them because she had to fulfill certain obligations outlined in her contract.
She hasn't been able to release any new music with Dr. Luke since her 2012 album Warrior because of the ongoing trial. The music producer ended up countersuing Kesha for defamation after she made the sexual assault claims against him.
The singer wrote on Facebook:
At this moment in time, if Dr. Luke does not put these songs out, Kesha can claim he and the record label, which is owned by Sony Music, are preventing her from releasing new music.
However, Dr. Luke's team has a different perspective on Kesha's decision to drop the suit.
Christine Lepera, one of Dr. Luke's attorneys, said,
If Kesha is voluntarily dismissing her claims in the California case, it is because she has no chance of winning them [...] Kesha never should have brought her false and meritless claims against Dr. Luke in any court. Dr. Luke's defamation and other claims against Kesha are still proceeding.
A judge dismissed many of Kesha's claims of sexual assault when she brought them to court in New York last year. Her appeal is still pending.
The singer is also still in a legal battle with her producer and alleged abuser in the state of New York, where Dr. Luke countersued for defamation.
Citations: Kesha Drops Her Sexual Assault Lawsuit Against Dr. Luke in California (Cosmopolitan), Kesha Drops California Suit Against Dr. Luke, Proceeds in New York (Rolling Stone), Kesha Drops Sex Assault Case Against Dr. Luke To Focus On Music Fight (Buzzfeed News)