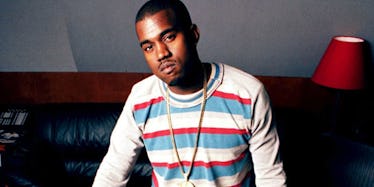 Someone Discovered A Kanye West Beat Tape From Before He Was Famous (Listen)
Tumblr
Kanye West has always been a prolific producer and beat maker. In fact, that's how he made it in the game in the first place!
Today, his production has evolved light years, but who could forget The College Dropout-era Ye, the one who came heavy with the soulful samples and real instruments?
This 2001 beat tape, recently discovered by Jensen Karp and posted on TheStashed.com, proves Kanye was really putting in the work he was talking about.
According to Karp, he found the tape in a random box in his garage. But, could these actually be the oldest Kanye beats ever released? Karp said,
I was stumbling through my garage, searching through old storage bins, when I came across some old beat CDs from my days as a signed Interscope rapper. I was shocked to find that two of them, both given to me in '01, had the name Kanye West on them. These two CDs, which I believe are the oldest Kanye beats ever released. I think this collection of early Kanye beats shows you where he came from, even if it doesn't necessarily sound like 'Kanye' now. He kept at it and became the incredible producer he is today. I remember he even had to leave the studio sessions early, so he could make the last train back to his mom's house. He's come a long way, and I'm proud to have been around, even if for just a second at the start.
In his 2004 track "Spaceship," Kanye dropped the "Lock yourself in a room doing five beats a day for three summers" line, and he clearly wasn't lying about it!
Citations: Kanye Beats Before He Made It Big (MTV)