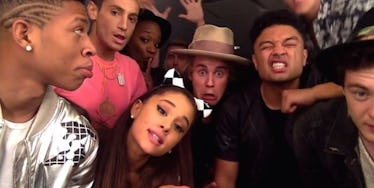 Justin Bieber, Ariana Grande And Friends Lip Sync 'I Really Like You' (Video)
If for some reason you wanted to watch a video of Justin Bieber and Ariana Grande lip-syncing to a Carly Rae Jepsen song, this is your chance.
Bieber, Grande and a whole host of their comrades recorded a silly video of them mouthing along to "I Really Like You" by Jepsen.
There really doesn't seem to be much of an impetus for this video outside of these kids wanting to have some fun.
So, although this is difficult for me, I'll try not to hate too hard on their good time. Though, I'm sure Big Sean wouldn't mind if I did.
There are also some interesting cameos in this video. Lance Bass, Kendall Jenner and Frankie Grande all make brief appearances. Be sure to check it out above.
Citations: Watch Justin Bieber Ariana Grande and More Dance to Carly Rae Jepsens I Really Like You (Time)