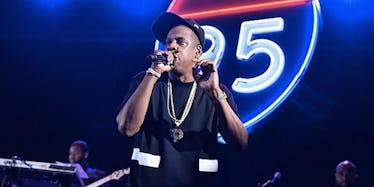 Jay Z Disses Spotify And YouTube During Freestyle Rap At Tidal Concert
Jay Z dropped some crazy bars at Terminal 5 in NYC during his "Tidal X: Jay Z B-Sides" show on Saturday night.
And during an epic freestyle just shy of 20 minutes into his set, he addressed everything from Spotify and YouTube to the deaths of Freddie Gray, Mike Brown and Trayvon Martin.
Hov never kept it anything short of 100 throughout his entire career, and this freestyle definitely cleared up a lot of things.
Some people believe Jay Z is using Tidal to make artists like himself richer, but he's been adamant in proving that's not what he's doing.
Jay is trying to revolutionize something and make it better, just like he does with other business ventures he invests in. And like many other great things, that may just take some time.
But for the haters who still don't believe in him, hold this freestyle. And deez nuts.
Citations: Watch Jay Zs Epic Freestyle About Tidal Critics & Others at Intimate B Sides Concert (Billboard )