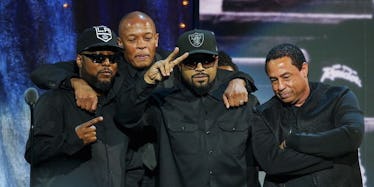 NWA Just Reunited At Coachella And Everyone Completely Lost It
Eduardo Munoz
On Saturday night, Ice Cube took to the Coachella stage and not only rocked it, but also brought out a few insane guest performers including his old group mates, NWA.
The group, however, apparently forgot about Dre. Maybe he was too busy making billions.
Fans in the crowd immediately took to the stage to share their excitement.
When #icecube comes on and you realize he's paved the way #respect #90s #nwa #holditdown — Citizen Ellect (@hey_sandray) April 17, 2016
Cube also brought his son, O'Shea Jackson Jr., on stage to share an enthusiastic performance.
Ice Cube gave plenty of love to his deceased group mate, Eazy-E, with a multitude of shoutouts. But the surprises didn't stop there. The rapper/actor also brought out fellow SoCal great Snoop Dogg for an absolutely bananas performance of "Next Episode."
The crowd, packed with young 20-somethings, may not remember Ice Cube from the early '90s, but they sure as hell know him (and his son) now.