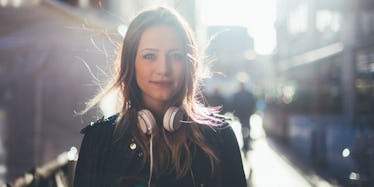 Why House Music Will Always Live On, Despite The Fall Of EDM Culture
Think back — way, way back — to when iPhones weren't our main source of music, and applications didn't allow us to stream practically every song imaginable at any given time.
Say, around the early 2000s, when I had to use a CD player to listen to music.
There were no podcasts, or SoundCloud sites.
If I liked a certain band I went to the store, bought a $15 compact disc and played it on my Sony Walkman, caveman style.
Fast forward a few years, and I discovered house music — the type of music played in dark warehouses, or clubs located on shady streets on the west side.
There were no festivals with brightly colored clothing and glow sticks.
Usually, I'd wait in line with the other "house heads" to enter a two- or three-floor establishment where the beats would pump through your body, eliciting dance battles and pure energy.
Many hours later, we'd emerge, beaten, tired and sweaty, with the sun shining in our eyes and trek to the train.
So what is EDM you ask?
I have no f*cking clue.
Over the last few years, electronic dance music has taken over the raver and music enthusiasts of our generation.
Electric Zoo and TomorrowLand are festivals that are specifically geared at young Millennials looking to trip on ecstasy, and wear horrendously tacky outfits while dancing to ear noise.
The screeching sounds of today's popular DJ's do not resonate with me: aka the older people.
Jonathan Peters, Danny Tenaglia and Victor Calderone were the Calvin Harris', Steve Angellos and Deadmau5's of my day.
The music had rhythm and style.
It was sex radiating from the turn tables.
Perhaps I'm romanticizing it, but being the email girl (you know that annoying chick, who asks you for your email to send promotional spam,) at one of the city's largest clubs was my reigning moment.
I was on top of the world; getting to hang out and listen to jungle house was all a shy 18-year-old could ask for.
However, now the idea of going to a huge open area with the majority of the population tripping on drugs as we stand in the blistering heat does not entice me.
According to a recent Forbes magazine article, EDM has recently declined due to rising expenses and costs.
Although attendees shell out serious cash to listen to their favorite acts, making enough money to book artists such as Tiesto or David Guetta has become increasingly difficult.
Headliners are demanding more money as their popularity expands.
In addition, the deaths of young festival-goers, due to drug consumption has raised questions about the festival's safety, as well as its message.
How can the festival organizers promote a safe place for music lovers to enjoy the event, when drugs are circulated, you're out in extreme heat all day and are consuming alcohol not enough water because they're charging $5 a bottle?
Paying hundreds of dollars for music that should be in an enclosed echoing space cannot be sustained by the premise that this is, indeed, a fad.
I can see the appeal.
Who wouldn't want to put on furry knee-high boots, and a lime green mesh dress to maybe dance for three days straight?
Sign me up.
The difference is clear; there's a whole decade in between what house music is to me, and what EDM represents today.
There are no packed clubs with eager fans ready to dance it out purely for the music and experience.
I will no longer have the pleasure of seeing that one juice head with the huge Sound Factory tattoo on his back, or the fantastically dressed dancers, but I will remember fondly that we were there for the music and the artistry.
House may never reemerge as it once was, but the one perk of being an aging house head is that I am not subjected to the modern day ootz ootz ootz's.