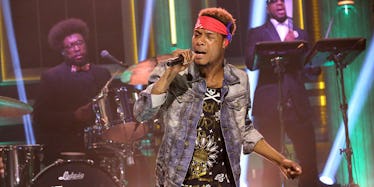 How Fetty Wap Went From Being Unknown To Major Artist In Only 2 Years
NBC
If you've left the crib at all in the past six months, chances are you've heard "Trap Queen" by Fetty Wap.
The New Jersey rapper burst onto the scene this year and is taking over the game, following the footsteps of Garden State greats like Redman, Queen Latifah and Wyclef Jean.
Still, none of those legends could say that they had a hotter debut than Fetty.
His crooning, drug-inspired love anthems are something completely new, and he now has a lane all to himself. You're more than likely going to be bumping his sh*t all summer.
The 24-year-old remains humble throughout his overnight success, though, and he knows this is just the beginning of something epic if he manages to not f*ck it up.
Considering his roots and supporters coming out of Jersey, he'll be Gucci and keep dropping these bangers for years to come.
Fetty Wap's real name is Willie Maxwell II, and he was born in Paterson, New Jersey on June 7, 1990.
He earned the nickname "Fetty" while growing up in project housing in Paterson because he was known for always getting money.
The "Wap" part is a tribute to his inspiration, Gucci Mane, who is a pioneer in trap music down in the south.
He credits Paterson as the reason he is the artist he is today.
In an interview with NorthJersey.com, Fetty Wap said,
Paterson turned me into a man, and it turned me into Fetty Wap. That's why I represent Paterson so much. If you can't gain the support of the local area then you're not going to be able to get the support from nowhere else. When you get love from Paterson, it's real love.
He was born with glaucoma in both eyes and lost one as a child.
In an interview with DJ Self on the Sirius XM Show, "VIP Satrudays," he put all the wild rumors to rest, saying,
When I was little, I had got into an accident and it gave me congenital glaucoma in both of my eyes. The doctor saved one, so I was blessed to still have my vision.
Fetty is Haitian and often wears the country's flag around his head.
And he does everything with his group, Remy Boyz.
If you're wondering why his crew is called Remy Boyz and why he keeps saying "1738," Fetty confirmed it was inspired by the cognac.
His hit song "Trap Queen" has over 93 million views on YouTube.
"Trap Queen" is one of the hottest tracks of the year, and climbed as high as number two on the Billboard Hot 100 Charts for three consecutive weeks. When asked about the success, he said,
I just feel real blessed to have one of the hottest songs right now in the country. I knew it was going to be big, but I didn't think it was going to be big this fast.
The record got him on "The Tonight Show" with Jimmy Fallon...
...And has been remixed hundreds of times by singers like Niykee Heaton.
Less than a year ago, he was selling mixtapes from the trunk of his car.
According to NorthJersey.com,
Just eight months ago, the 24-year-old, one-eyed rapper was peddling his $5 CDs and $10 DVDs anywhere he could — from a Paterson pizza shop to basketball courts in Hackensack to a sneaker shop in downtown Passaic, even outside the Westfield Garden State Plaza in Paramus.
He only started rapping two years ago.
Fetty Wap might be a newcomer, but he's been working harder than most people in the industry. Still, I don't think anyone expected this to be all so new to him. According to Music Times, he said,
I just started doing this two years ago. I just started music period… Anything that has to do with music, I just started doing it like two years ago.
One of his biggest breaks came when he met and performed with Kanye at the Roc City Classic.
After Yeezy admitted "Trap Queen" was his favorite song earlier this year, he asked the young rapper to come perform with him in NYC.
This was Fetty's first major performance.
He then gained mainstream recognition after performing with Fall Out Boy at the MTV Movie Awards.
His song "My Way" became his newest hit, and even Drake jumped on the remix.
In an interview with The Fader, Fetty said Drake hit him up on Twitter:
He sent me a DM, and I sent him my number. When I landed from Tampa a couple of days ago, and as soon as I landed and turned my phone off of airplane mode, he was FaceTiming from DC where he was playing 'My Way' at a club. He was like, 'Yo, I want to cut the record tonight.' Next thing I know, I checked my email and it was there.
LeBron also uses it as motivation during the playoffs (though he can't sing).
Fetty's main priority, however, is taking care of his child.
During an interview with Vibe Magazine, Fetty Wap shared an awesome story:
The day I got signed, the first thing I did was call my son. I picked up my son. I ain't call my mother, I ain't call nobody else, I just called my son, crying. He ain't know what's going on, I was crying telling him that I love him. He thought something was wrong. He was like, 'What's wrong?' I was like, 'Nothing, I love you.'
According to Fetty's ex-girlfriend and baby mama, this is true.
In a recent Instagram post showing Fetty face timing his son, she said,
This goes to show you that you don't have to be with someone to still have a great bond an family 11years now an still going #greatparents#coparents#friends#family
Fetty Wap already switched up his style a little and now has dreads, which many believe to actually be a weave.
But he can do whatever he wants at this point, as he's doing what he loves with the people who inspire him.
Now, watch his new video for "679" to see what a ratchet Jersey party really looks like.