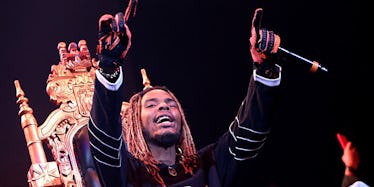 Trap King: 5 Reasons Fetty Wap Absolutely Owned 2015
Getty Images
You were probably singing his music all summer and you're probably still singing it today.
Your friend (or you) probably Instagrammed a photo with the caption, "Trap Queen," and every party you went to probably had a "My Way" sing-a-long session.
Even Beyoncé was caught on video jamming away to Fetty Wap at Kanye's Roc City Classic pop-up concert in New York City last March.
There's definitely no way to deny that Fetty Wap definitely conquered 2015.
Here's why:
With his breakout hit "Trap Queen," Fetty Wap went from being virtually unknown to being the song of choice blasting through the windows of every car driving down the block.
His debut album, named after him of course (because nothing rolls easier off the tongue than Fetty Wap), hit number one on the Billboard 200.
When the first album you ever record hits number one on a Billboard chart, you know you've made it.
But when you break a record set by the Beatles, you know you've conquered.
Fetty's first three singles ever "Trap Queen," "679" and "My Way" made it to the Top 11 of the Billboard Hot 100 songs, making him the first male solo artist to do so.
When he released "Again," Fetty became the first artist to have his first four singles hit the top 10 of the Billboard Hot Rap Songs chart.
Fetty was also nominated for several awards, including two American Music Awards and three MTV Video Music Awards. He ended up winning the Artist to Watch award.
And what was Spotify's most streamed song of 2015? You guessed it, "Trap Queen."
And speaking of trophies, even Drake hopped on the Fetty wave, when he made the remix to "My Way."
This was definitely Drake's way of giving Fetty a cosign. Oh Drake's cosigning you? Say no more.
Fetty also garnered praise from legendary hip-hop songstress MC Lyte, when she praised him for being one of the few artists who writes lyrics that show appreciation toward women at a discussion at the White House Council on Women and Girls Summit.
Ed Sheeran also gave Fetty a great compliment by making an acapella version of "Trap Queen."
But if that isn't enough to convince you of Fetty's world domination, Kanye, Taylor Swift, Beyoncé and his idol, Gucci Mane, are just some of the other people who have been known to enjoy Fetty.
His unique singing voice is infectious to ears.
Fetty has gone from chilling in his home of Patterson, NJ to booking performances all over the country.
Fetty accompanied Chris Brown as one of his guests on the "One Hell of a Nite Tour," performed at the BET awards and was even a guest performer on the "Jimmy Kimmel Live" show.
He's been a feature at several music festivals, and has also been tapped to put the golden touch on singles by artists, such as, including Natalie La Rose and Ty Dolla $ign.
Even though some would call Fetty an unlikely winner, he's still winning.
Despite many setbacks in his life, including losing an eye when he was younger and having nowhere to call home, Fetty has reached a net worth of $2 million after 2015 alone.
And what's even more amazing than this, he's only been rapping for two years.
Fetty was even generous enough to take some of that 2 mill, and make it rain $2,700 at the Garden State Plaza mall, in his home state of New Jersey.
Seriously, who can't love a guy who gives back?
Fetty Wap conquered 2015 by showing others that it's ok to be yourself, no matter what you look like.
Fetty rose to fame despite his physical ailment.
Not common in mainstream media, Fetty made not having an eye more normal and less shocking, even motivating a little boy named Jayden.
Jayden lost his eye at the age of 1 and never went out without his prosthetic on, according to his mother.
But after Fetty came on the scene, this little boy was unafraid to go outside without his prosthetic in.
He gave this little boy the confidence to roam the world, without fear of bullies or being different. That alone is priceless.
From breaking records to motivating fans, 2015 was Fetty Wap's year. We can only expect to hear more of that unique singing voice in 2016.
But if you can't wait, don't worry.
Fetty just released a five-track EP titled, For My Fans, that is now available on his Soundcloud.
Enjoy your early Christmas gift!