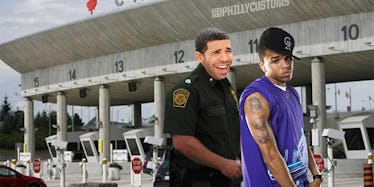 Drake's 'Reactions' To Chris Brown Not Getting Into Canada Are Epic
In cased you missed it, Chris Brown was hilariously denied entry into Canada yesterday.
You should remember, of course, the R&B star got in a spat, which ended with a brawl in an NYC nightclub last year, with Canadian rap star Drake.
Chris Brown's shows in Montreal and Toronto (Drake's hometown) have all been canceled and the singer is now back in the states.
While it's not clear exactly what the issue was, you already know Twitter had to speculate. Could Drizzy actually be behind all of the chaos? Or is Canada just on some f*ck sh*t? We'll probably never know!
Without any further ado, I give you the best online reactions.
It's no secret Drake has heavy political ties in his home country:
pic.twitter.com/COpuDvIAyx — CHRIS FOXX (@FoxxFiles) February 24, 2015
But, when he found out Chris Brown was trying to gain access, he nearly lost it:
when drake heard chris brown was trying to cross the border - https://t.co/EapPMSP0dA — neil mccauley (@the_blueprint) February 24, 2015
In all reality, it only took one call:
CanadianGovernment: It's been taken care of sir. 6God: pic.twitter.com/XD5NXADd0U — Carlos Reedriguez (@TheOnlyReed) February 24, 2015
The conversation went a little something like this:
Chris Brown denied Canada entry ... This Drake meme made me chuckle. Who has this kind of time on their hands pic.twitter.com/S8qcDyFL42 — OhSoDJ (@gossip_vixen) February 25, 2015
You should've seen him acting like a little school girl on that call:
"I'll make the calls to get y'all through customs" pic.twitter.com/I9YsvSvH5W — Cliff Skighwalker (@Skighwalker) February 24, 2015
Drake be like:
RT @chrisbrown: "The good people of the Canadian government wouldn't allow me entry." Drake: pic.twitter.com/9kTRW3TFhv — Pizza is life✨ (@iiBreakNecks) February 24, 2015
Chris Brown be like:
Just Hold On You're Going Home @chrisbrown pic.twitter.com/ufjXjlkrqE — Kenny (@PhillyCustoms) February 24, 2015
This calls for some serious changes to that last mixtape title:
pic.twitter.com/6IrjVBpISs — L.A.S (@SartoriallyInc) February 24, 2015
Mood:
Drake during Chris' NYC radio run. Drake 15 mins ago pic.twitter.com/L37fzdtPZt — LowKeyUHTN (@LowKeyUHTN) February 24, 2015
Then again, we could be totally wrong: