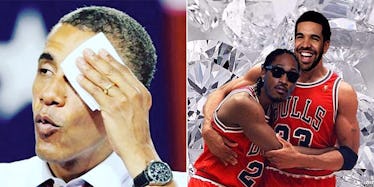 Drake And Future Are Breaking The Internet With Their Brand New Mixtape
Instagram
Drake and Future gave their fans the music they were asking for, and they didn't disappoint. The Internet hasn't stopped necking them since.
What A Time To Be Alive is the 11-track collaboration guaranteed to be quoted on your timeline nonstop for the next month or two, but it almost never even happened.
Rumors started flying after this fake album art went viral.
There was even a false track listing that looked VERY believable and made fans thirstier.
After weeks of speculation and nothing happening, people started demanding a collaboration.
This Drake & Future mixtape got me like pic.twitter.com/Pw8QDqjjCy — WORLDSTARHIPHOP (@WORLDSTAR) September 19, 2015
It didn't help they were playing shows and hanging out everywhere, but still, nothing.
Finally, at a show last week, Drake gave a big hint the mixtape was coming soon.
"Sunday we're gonna make a motherfuckin movie..." #OVOFBG @SRDtv pic.twitter.com/x8KOtkEwxS — OVOForums.com (@ovoforums) September 19, 2015
Then, Drake confirmed it when he posted this IG photo with the caption, "FREEBANDZ OVO 6PM EST APPLE RADIO."
Future revealed the name of the mixtape with this tweet.
WHAT A TIME TO B ALIVE — FUTURE/FREEBANDZ (@1future) September 19, 2015
And Drake shared the cover art on his Instagram.
Expectedly, the Internet is acting like it's the greatest thing to ever happen to music, and the memes are flying.
Flame emoji are being used at an all-time high since the release.
It's hard to argue there are two hotter artists in the game right now.
Pictures of @Drake and @1future leaving studio after making #WATTBA pic.twitter.com/ue0vSRcc3X — Markie Mark (@Markie_Mark91) September 20, 2015
But some people might be taking the music a little too far.
Me bumping to #WATTBA in my car rn pic.twitter.com/VzTDkIMZ9k — Luis (@_mesientojevi) September 20, 2015
Some are even getting emotional after having to wait nearly three full weeks.
#WATTBA got me like… pic.twitter.com/kEXYwyzO1e — Plastic Bag (@_GenuisMe) September 20, 2015
But it seems like the wait was certainly worth it.
Even LeBron James agrees the album is a banger and posted this pic.
Of course, Drizzy blessed King James with an early preview because he's LeBron.
My brother @Drake sent me that FIRE a few days back and I haven't stopped listening to it. S/O the homie @1future. U Boyz ain't right! — LeBron James (@KingJames) September 20, 2015
But realistically, this is what WATTBA was.
Hahahhahahah y'all boys wild for this one pic.twitter.com/ijVElhUzOx — Chase N. Cashe (@ChaseNCashe) September 21, 2015
It sucks Meek Mill is the only one who can't enjoy this.
Nicki making sure Meek ain't coming so she can put her head phones back in. #WATTBA pic.twitter.com/7WnPnuKilP — josh edwards (@joshuedwrds) September 20, 2015
Because now everybody is making sure he knows about it!
This mixtape only solidifies Future is the Kobe Bryant of the rap game.
As for Drake, it's just another step in his evolution.
But I don't think anyone would've thought it'd get to this.