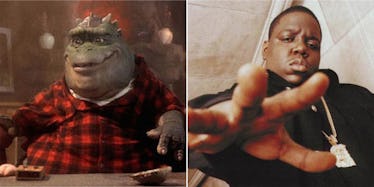 The Dad From 'Dinosaurs' Performed Biggie's 'Hypnotize' And It's Epic (Video)
You youngsters out there may not remember the TV show "Dinosaurs."
It was basically a normal sitcom from the early 90s.
The only difference between the show and a typical network comedy was "Dinosaurs" featured, well, dinosaurs.
Now, a guy named Benjamin Roberts brought the short-lived sitcom back into the pop culture fray by mashing up images of its protagonist, Earl Sinclair, with Notorious B.I.G.'s "Hypnotize."
The combination works surprisingly well. The dinosaur looks like he's actually rapping the track.
Plus, you just gotta love that dino baby.
Check it out above.