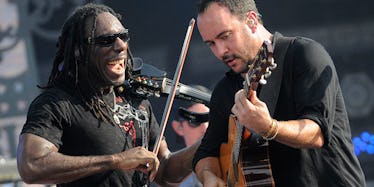 I Will Always Defend Dave Matthews Band, And This Is Why
REUTERS/Cheryl Gerber
I've never been the type of person whose preferred form of therapy is putting secrets on the Internet for anyone to read, but I think it's finally time I come forward and confess something I've only told my closest and most trusted friends.
I am a fan of Dave Matthews Band.
I'm fully aware of the potential fallout of posting information like this online; I've witnessed firsthand the abuse fans of Nickelback have endured over the past decade or so, but I've decided I'm more than willing to face any onslaught that comes with standing up for something I truly believe in.
In a few weeks, DMB will kick off a summer tour commemorating their 25th anniversary. This will be a celebration of a band that rose to fame in an era when tying a sweatshirt around your waist was considered fashionable and most people used AOL if they wanted to insult someone online.
Over the past quarter century, they've been the target of a virtually endless stream of attacks from people on the Internet who have seen the viral "Bro Rape" video, and I've remained silent.
Until now.
I've spent a long time thinking about why DMB has inspired so much vitriol over the years.
After all, the '90s were filled with musical groups with similar styles and aesthetics, but you can tell most people you're a fan of Blues Traveler without having to worry about them assuming you're a douchebag.
Even if you're not a fan of alternative rock bands featuring a violinist and a saxophone player, you can't claim to be an objective judge of music while ignoring the impressive musicianship of every single member of the ensemble (I won't be stupid enough to attempt to defend Dave Matthews' singing voice, which is admittedly an acquired taste).
I've heard people say every one of their songs "sounds the same," which is one of those comments that can be used to describe virtually any band with a coherent sound but never actually stands up to scrutiny (unless the band in question is AC/DC).
Their earlier works might have lacked diversity, but you only have to listen to the impressive variation of musical styles showcased on Before These Crowded Streets to realize the band has no problem branching out from their traditional sound.
However, I will say this: If your only exposure to the band is through their most popular hits, you probably never had the motivation to delve any further into their back catalog, as the band has always struggled picking singles that represent their best work.
Despite its popularity, "Crash Into Me" is arguably one of the worst songs on the album it comes from, and the appearance of Julia Roberts in the video to "Dreamgirl" couldn't do much to distract from the song that accompanied it.
While most of the albums they've released since the start of the new millennium haven't been able to capture the zeitgeist that propelled them to stardom in the previous decade, I find it hard to believe anyone can listen to their first three studio albums (AKA "their prime") and not come away with at least some appreciation for the band.
After taking all of this into consideration, I settled on my final theory: The vast majority of people who claim to despise Dave Matthews Band are, at the very worst, ambivalent when it comes to most of their music.
In reality, their hatred is fueled primarily by the fans of the band, who I -- a recovering DMB fanatic with over a dozen concerts under my belt -- can safely say are some of the worst people I've ever encountered.
I've heard plenty of people say, "DMB fans are just a bunch of frat bros!" -- which is unequivocally incorrect.
DMB fans are also a bunch of high school kids drinking as many light beers as they can in the parking lot before the show and a bunch of 30-somethings doing the same thing because they just remembered they saw their first show when they were in high school and don't want to deal with the pain that comes with that realization.
It's virtually impossible to go to a show without running into at least one incredibly insufferable individual at some point during the night.
Maybe it will be the guy who can't name a member besides Dave and can't stop yelling the name of a song he doesn't realize they already played while he was still passed out next to a car at the tailgate.
Maybe it will be the 27-show veterans who laugh at anyone who can't name every song after hearing the first two notes and keep complaining this show isn't nearly as good as the one that took place somewhere called "SPAC" (the only thing DMB fans like more than getting blackout drunk is acronyms).
I know this summer I'll end up standing on the lawn of an amphitheater next to a bunch of chubby dudes with Greek letters on their visors and groups of underage kids in tank tops who think no one knows about the joint they're smoking.
And even though I can't block them out, I can still close my eyes and listen to the music of the band that's responsible for a major part of the soundtrack to the journey I've been on since I attended my first concert as one of those dumb high school kids almost a decade ago.