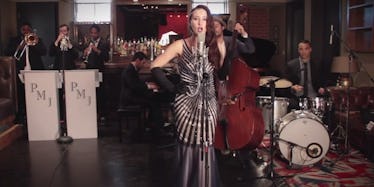 This Vintage Cover Of 'Gangsta's Paradise' Is Better Than Coolio's (Video)
Postmodern Jukebox is back again with another awesome, old-timey cover.
The bad already did excellent versions of "Stacy's Mom" and "I Want It That Way."
This time, the jazz group took a stab at Coolio's "Gangsta's Paradise," and this version might be better than the original.
At the very least, this cover made me realize Coolio's lyrics are actually pretty damn smart. People don't really write rap songs like this anymore.
Postmodern Jukebox's rendition is great, and I wouldn't be surprised if I heard it playing in some speakeasy or cocktail bar in New York City.
Give it a listen up above.
Citations: Gangstas Paradise gets the vintage cover it deserves (Mashable)