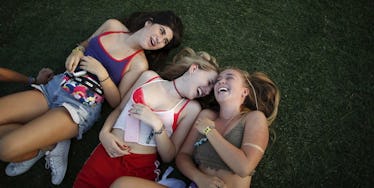 This Year's Technology At Coachella Will Be Trippier Than Any Festival High
REUTERS/Lucy Nicholson
It's that time of year again, and Coachella weekend is quickly approaching. Those who've planned for months and months are getting ready to step into an other-worldly, extended weekend getaway.
As the festival has progressed over time, more reputable acts are hitting the main stages each year. Coachella 2016 features a diverse lineup of musicians, from mainstream headlining groups such as Guns N' Roses and Ellie Goulding to hip-hop artists like Ice Cube and Run The Jewels.
While there is certainly a lot to look forward to this year in terms of music, the technology invading Coachella over the years continues to accelerate the festival experience as a whole. The convenience of smartphone apps help plan time spent at the festival, and new technology like holograms and virtual reality equates to a long weekend any Millennial can get excited about.
The Potential For More Live Holograms
We all remember that legendary set back at Coachella 2012, when Tupac joined the stage with Snoop Dogg and Dr. Dre in the form of a hologram. This was a groundbreaking performance, as were similar hologram sets by Bone Thugs-N-Harmony and Wu-Tang Clan.
These past events may spark a question and leave Coachella fans wondering, what's in store this year? Is there potential for more sci-fi turned reality on stage?
Last week, a post on Hip Hop DX alluded to a hologram set at Coachella. Rumors circulated and the rapper G-Eazy has said that he plans to resurrect Mac Dre on stage this year. G-Eazy kicks off the fest on Friday night. His set is sure to be memorable, especially with the thought of Mac Dre in hologram form.
Festival Smartphone App
The days of navigating festival grounds by paper map are long gone, as the Coachella official app replaces old-school booklets and brochures. Navigation aside, the application also lets festival-goers input their favorite bands, and it automatically creates a schedule for them. No more missing your favorite acts.
Festivals of all kinds are following this trend. Recently, I attended Treefort Music Festival in Boise, Idaho, and the related app was extremely handy. I was able to see all of my favorite bands play without worrying about missing sets due to overlap or my own error.
These types of apps are particularly useful for drunken festival goers, aka the majority of people there. Most festival apps sync with smartphones in a way that sends notifications prior to bands starting. That way, everyone has plenty of time to walk or stumble to the correct venues and stages in time. Coachella's official app is available for both Android and iPhone, so access is available to everyone.
Virtual And Augmented Reality
One characteristic of the Coachella app that is truly special is the ingrained virtual reality. With VR technology skyrocketing and a projected market work of $30 billion in the coming years, it's no surprise the festival is jumping on board.
By using the VR tours function, smartphones can be turned into an immersive headset that allows for advanced touring of the festival grounds. This is helping people prepare because they will have the option of learning their surroundings ahead of time. Pre-planning such as this should aid those partaking in activities that hinder their ability to direct themselves. Looking around the festival grounds ahead of time will surely help test the waters of drug and alcohol-induced wanderers.
Another way virtual reality will be present this year is by the use of augmented reality in the form of interactive earbuds. These types of augmented reality earbuds allow concert-goers to truly control the sound they are engulfed by.
How it works is actually pretty simple. Wireless earbuds equipped with microphones pick up the surrounding sound. They sync via bluetooth with a smartphone that acts as an interface which allows users to manipulate what they are hearing. Is the show too bass heavy? No problem. That can be easily adjusted by modifying the equalization and by turning down the bass.
360-Degree Video
With the rise in access to 360-degree cameras and mounts, it's likely that Coachella 2016 will see a massive wave of these revolutionary videos. Last year, the DJ George FM shot one of the only 360-degree videos of the action from the perspective of an audience member. He shares the video in a Facebook post he shares the video and adds, "I have the only 360 video from the Sahara Tent at the famous Coachella Music Festival. Here you see Deorro performing."
Today, 360 degree cameras are more affordable and portable than ever, VR technology is rapidly accelerating and holograms are making regular appearances on the stages of concerts. Be on the lookout for newfound tech-based perspectives whether you're attending Coachella this year or just following the festival action from the comfort of your own home.