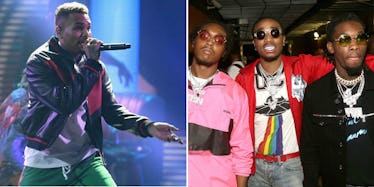 Chris Brown And Migos Started A Fight After BET Awards And The Video Is Intense
Paras Griffin/Bennett Raglin/Getty Images
Sunday night's BET Awards were filled with great performances, jokes by Chris Rock, and a few heavy moments, but one of the most intense parts of the evening didn't occur until after the show was over.
A fight broke out between Chris Brown and Migos at an after-party, TMZ reports.
Elite Daily reached out to Chris Brown's and Migos' teams for comment, but did not hear back by time of publication.
Migos, the rap trio who took home awards for Best Group and Best Collaboration for their song "Bad and Boujee" featuring Lil Uzi Vert, reportedly walked into a party near Microsoft Theater in Los Angeles just as Chris Brown had finished premiering his new music video with Future.
Chris Brown was also nominated for Best Collaboration for his song "Party," featuring Gucci Mane and Usher.
It's unclear what started the altercation, but witnesses allegedly told TMZ someone who was with Brown punched Quavo, one of the Migos guys.
Brown reportedly kept walking as one of the other Migos members stepped in to defend Quavo and also allegedly got punched.
Then, Migos and some other people apparently followed Brown out to his car. Video footage taken by a witness shows things getting intense.
Brown reportedly left before anything else physical occurred.
At some point, cops reportedly arrived, but the gathering had broken up and it doesn't appear any arrests were made.
There is some speculation the fight started over Brown's ex-girlfriend Karrueche Tran, who is now dating Quavo.
Migos formed in 2009 and consists of Quavo, Takeoff, and Offset. Offset and Takeoff are cousins, and Quavo is Takeoff's uncle. The three guys grew up together in Lawrenceville, Georgia.
The rappers are no strangers to trouble with the law. In 2015, they were arrested on gun and drug charges at Georgia Southern University, where they were supposed to perform. Quavo and Takeoff were able to take plea deals, but Offset served an eight-month prison sentence.
Brown also has a record, so it's not surprising he wanted to leave the scene before things escalated even more.
It definitely looks like future award shows could be intense.