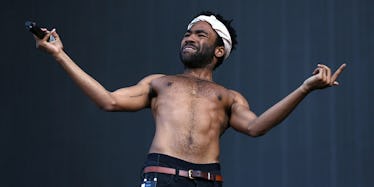 Childish Gambino Gave A Horrible Performance And Got Booed Off Stage
Getty Images
As an artist, it's important to remember people are giving you their time and money to watch you perform.
Trying to be a rock star by not saying a damn word for the first 40 minutes, then trying to end a show with a strange a cappella without performing your biggest hits will not make your fans happy.
That's exactly what Childish Gambino did in Newcastle, Australia, and he got booed the f*ck off stage because of it.
According to The Sydney Morning Herald, the rapper, whose real name is Donald Glover, and former star of the hit show "Community," announced his performance less than two weeks ago and sold out The Cambridge Hotel.
A lackluster set paired with some terrible management by the hotel created a sh*tstorm, and the whole thing was described as a giant disaster. He didn't even play his hit "3005."
Fans asked for their money back because all they really got was this.
#childishgambino #soldout #thecambridgehotel #newcastle Posted by The Cambridge Hotel on Thursday, October 1, 2015
You know it's real when people start emailing.
Childish Gambino certainly lost a few followers in Australia, but he's not all to blame. It just sucks when you lose a whole fanbase like this.
Many people in attendance claimed the hotel did an equally sh*t job with the whole event.
That's definitely the last time Donald will be performing in Newcastle.
Citations: Disastrous Childish Gambino gig sees US rapper booed off stage in Newcastle (The Sydney Morning Herald)