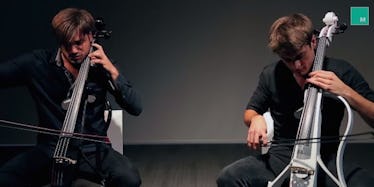 Cellists Cover Nirvana's 'Smells Like Teen Spirit' And It's Awesome (Video)
Before I get started, you need to know one thing about me: Nirvana is, and always will be, my favorite band.
There is not one song of theirs I dislike, and I could listen to Kurt wailing away for the rest of my life and never, ever tire of it.
So it's safe to say I'm skeptical -- at best -- of any Nirvana covers, mostly because I know nobody can come close to replicating the raw beauty my favorite band possessed.
That said, I took a listen to 2CELLOS' instrumental cover of "Smells Like Teen Spirit," and I'm actually pretty damn impressed.
For one, the Croatians perform the cover on electric cellos, which is probably the coolest thing I've ever heard of in my life.
The absence of vocals is both a relief (because nobody could ever be Kurt) and an asset: The focus is all on the incredible sound of the instruments.
And though cellos are typically used for calmer, more mellow music, the guys of 2CELLOS take the opportunity to really get into the music, and they rock out hard, as the song rightfully deserves.
I'm not exaggerating when I say this live cover is one of the most impressive I've ever heard. In its uniqueness, it is a perfect tribute to Nirvana.
Take a listen up top, and be sure to check out 2CELLOS' channel for more incredible, creative covers.