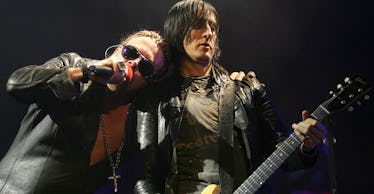 Check Out These California-Based Bands Before They Play At Coachella
Reuters
Every spring, Coachella gets tons of bands from all over the world to play for a couple crazy weekends in the desert. But how many call California their home and Coachella their virtual backyard? Quite a few, apparently.
Between the crowds and sweaty teenagers (maybe that's your thing, I don't judge), a lot of people like to see their favorite musicians at smaller, more intimate venues. On the flip side, countless diehard Coachella fans simply can't afford to spend that much money or brain cells on one long weekend. So what's a music lover to do?
Lucky for you, I did a little research. Here's a lineup of choice California-based musicians along with alternative shows you can catch in case you missed that 1-minute window to buy Coachella tickets.
Guns N' Roses, LA
The heavy metal legends formed in Los Angeles in 1985 when poofy hair and piles of cocaine were all the rage. After years of being practically retired, the band will reunite just in time for Coachella (with a few original members missing, but still). Welcome to the jungle -- er, the desert -- boys.
As you might have guessed, they're a pretty hot item. Outside of Coachella, you'll only really be able to see them at stadiums like the T-Mobile Arena in Las Vegas. But hey, why not make a Vegas vacay out of it?
Lord Huron, LA 
This LA-based indie folk band has been hitting the SoCal concert circuit since their formation around lead singer Ben Schneider in 2010. The band released a series of videos in a '70s western style, and their hit "Fool For Love" is one of those songs that never gets old no matter how many times you play it.
You can see them at the Lobero Theater in Santa Barbara on April 14.
Cold War Kids, Long Beach
After meeting at the Bible Institute of Los Angeles, the SoCal natives formed an indie rock band that would regularly gather at a diner called Mulberry Street -- a place that would later inspire the name of their first EP. The music video for their hit song "All This Could Be Yours" plays like a sexy Guess ad with a semi-grungy edge.
You can see them in Napa, California, on May 27.
KSHMR, Berkeley
Niles Hollowell-Dhar, the EDM producer from Berkeley known as KSHMR (that's pronounced "kashmir") has been busting out solo tunes after departing from his role in The Cataracs in 2014. His secret to success? "I drink about five Kombuchas a day," he told PopCrush.
Rancid, Berkeley
Way back in 1991 in Berkeley, veteran punk rockers Tim Armstrong and Matt Freeman formed Rancid after playing in a handful of punk bands throughout the '80s. If you're unfamiliar with the band itself, you likely remember their 1995 hit "Time Bomb" that helped define the '90s punk revival. "Black coat, white shoes, black hat, Cadillac, yeah" ring a bell?
You can see them whooping it up at the Roxy in West Hollywood on April 19.
Death Grips, Sacramento
This Sac-Town experimental hip hop group formed in 2010, drawing from hip hop, industrial, rock and noise music to influence their sound. Their music video, "I've Seen Footage," is a trip, featuring recorded porch conversations with drugged-out drifters.
You can see them at the Fox Theater in Pomona, CA, on April 20.
DJ Mustard, LA
Dijon Isaiah McFarlane got his start when he was just 11, DJ-ing at a family barbecue under the guidance of one cool uncle. He took the DJ name "Mustard" after the très classy dijon variety. Because his first name is Dijon. Get it? OK, cool.
Although influenced by Lil Jon and Dr. Dre, DJ Mustard has a sound all his own, as he described it to Complex once, "I got my style from fucking myself."
G-Eazy, Oakland
With a James Dean look and a Drake sound, G-Eazy is one of the more eclectic musicians featured at Coachella. At a young age, hip hop and recording artist Gerald Earl Gillum (aka G-Eazy) found his mother's girlfriend dead from a drug overdose. That experience inspired at least one of his songs, "Everything Will Be OK," on his second studio album, "When It's Dark Out."
With retro vibes and the ambition to be uber-famous, this Bay Area native is sure to hit the big, big times ASAP.
Catch him while you can on Tuesday, April 19 at the Santa Barbara Bowl.
Jack Ü, LA
Skrillex and Diplo make up this DJ duo. After their debut performance in 2013 at the Mad Decent Block Party in San Diego, they went on a nationwide tour, ultimately headlining at Madison Square Garden in 2014. In 2015, they teamed up with the Biebs to produce the hit "Where Are Ü Now" and a super psychedelic music video.
Get way outside the box and see them in Tampa, Florida on May 29.