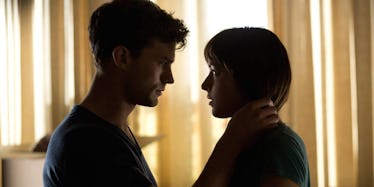 Beyoncé Releases Full 'Crazy In Love' Remix From 'Fifty Shades Of Grey'
Fifty Shades Of Grey/Universal Pictures
The "Fifty Shades of Grey" film comes to theaters on February 13. While you all eagerly await that fateful day, you can listen to remixes of two Beyoncé tracks that appear in the movie.
"Crazy in Love" and "Haunted" were reworked to fit into the BDSM-filled tale.
The new versions are slightly darker and edgier than the original tunes, but seem to fit the film's subject matter perfectly.
I have no doubt "Crazy in Love" will only make this movie sexier than it was already going to be. Give it a listen up top. Check out "Haunted" here.
Citations: Listen to Beyonces Fifty Shades Versions of Crazy in Love (Billboard)