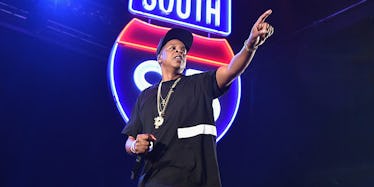 These 5 Artists Are The Best Live Performers In Hip-Hop Today
Getty Images
When it comes to the world of hip-hop, so much extends beyond the record itself.
Rappers and performers aren't simply selling their music to passionate fans. They're satisfying and adding to an entire culture, each time they take the stage.
Lyrics projected into a microphone can inspire both a cult following and a devout group of enemies.
Each word polarizes people into becoming lovers or haters, ensuring everyone at the show is either with or against them.
This is the source of the intense, high-energy shows one can find him or herself at all over the country.
Now, it's time to decide who does it the loudest, craziest and simply the best.
Due to the sheer number of rappers taking the stage night after night, it would be nearly impossible to fully analyze the on-stage antics of the top 20, or even the top 10.
However, after some research, I've managed to boil down the list to the top five:
5. Chance The Rapper
With the release of his second mixtape, Acid Rap, in 2013, Chance the Rapper has completely taken off.
With over 1,000,000 downloads on the mixtape distribution platform, DatPiff, Acid Rap has been certified diamond. This has catapulted Chance to mainstream success.
He has been a featured artist on tracks by Justin Bieber, Skrillex and James Blake. By touring with the likes of Action Bronson, Earl Sweatshirt and Mac Miller, Chance has seen his music explode across the globe.
He is perhaps one of the biggest faces of the independent music movement. Chance owes much of his success to his own hard work, as he remains unsigned to any label.
A ticket to one of his shows ensures the fan a night of unbelievable energy, dancing and rapping.
Backed by his live band, The Social Experiment, Chance can hardly contain his excitement on stage, spreading positive energy as infectious as the live music itself.
On top of this, Chance is well-known for his personal talks to the audience, making every audience member feel like a part of the conversation.
4. Action Bronson
Arian Asllani, better known as Action Bronson, is a 31-year-old rapper from Flushing, NY.
As he was originally a successful gourmet chef with his own TV show, "Action In The Kitchen," it's easy to see why food is such a common topic in his songs.
He has released two mixtapes and two independent albums that have been met with positive reviews.
However, it was after his debut studio album that Action found mainstream success.
By touring with Kendrick Lamar, J.Cole and Eminem, Action Bronson has established himself as one of the biggest names in the game. His live shows reinforce the fact he is unlike anyone else at his level.
His on-stage antics range from carrying women on his back to tossing bags of weed into the crowd.
All this solidifies him as one of the most interesting performers in rap.
His performances are not easily forgotten.
3. Jay Z
It's safe to say Jay Z has superseded his rapper status, and become one of the most successful hip-hop artists of all time.
With a net worth of $520 million, he has sold over 100 million records, won 21 Grammys, cofounded his own clothing company and owned multiple record labels.
Despite all this, Jay Z still manages to put on one of the best concerts in the world.
It's not because he's the most talented, most outrageous or most energetic. It's because he has the most hits.
His arenas are packed with people who know the words to every song. By incorporating his business mindset into his music, Jay Z is able to sell his music better than anyone else.
2. Kendrick Lamar
From organizing the countless voices that overlap his tracks to producing his own instrumentals, Kendrick is involved in every aspect of his music.
Although his first independent album, Section 80, received immense critical success, it wasn't until his debut studio album, good Kid, m.A.A.d city, that Kendrick took over the industry by storm.
His live shows portray the same discipline. He features acapella rhymes, freestyles and most importantly, a setlist catered specifically to the venue.
This ensures his festival sets carry a lot of energy, while his smaller indoor venues include certain tracks to keep the vibe personal and emotional.
The constant fluctuation between planned songs, the rhythmic freestyle and his rants to the audience ensure that a Kendrick Lamar concert is a journey, not just a hip-hop performance.
1. Kanye West
Despite the negative media that has come his way over the past few years, Kanye West tops the list as the best live performer today.
When he's not stealing the mic to one-up other celebrities, he's looking to one-up himself. He is constantly evolving and improving, in order to keep up with his own ego.
Perhaps the most distinguishing element of Kanye's music is his ability to produce.
Kanye famously produced Jay Z's album, The Blueprint, which is a record that has been immortalized as one of the all-time greats.
This talent is the reason behind all the killer instrumentals that have been featured on his records in the past decade.
All this success allows Kanye to perform at his highest level on stage. He always has unbelievable stage designs that rival those of top Broadway productions.
His shows consist of freestyle poetry, immense energy, numerous featured artists and, of course, lights. A ticket to this spectacle may force one to dig deep into his or her wallet.
However, it will be well worth the experience. Kanye West represents an iconoclast this genre of music may not see again for a very long time.