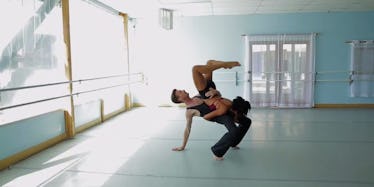 Ballet Duet To Sam Smith's 'Stay With Me' Is Absolutely Breathtaking (Video)
It's no secret that Sam Smith's "Stay With Me" is one hell of a tearjerker.
The pop ballad is powerful enough on its own, but when used as the soundtrack to a beautiful dance performance, it's off-the-charts moving.
So if you're prone to emotional outbursts (guilty), you may want to have tissues ready for Helios Dance Theater's stunning ballet performance to the song, featuring dancers Princess Mecca Romero and Chris Stanley.
Choreographed by Laura Gorenstein Miller, this minimalistically gorgeous piece will leave you breathless.
Watch the video up top.
Citations: This Staggering Ballet Duet Set To Sam Smiths Stay With Me Is Just Damn (Huffington Post)