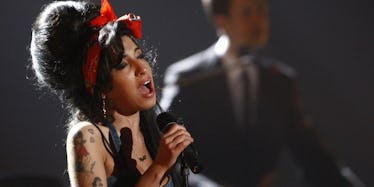 All The Eerie 'Back To Black' Lyrics That Predicted Amy Winehouse's Tragic Fate
REUTERS
Thursday, October 27, marks the 10-year anniversary of Amy Winehouse's second and last album, Back to Black.
The album spans the highs and lows of love affairs: teasing, cheating, wanting, overcoming sadness and giving into it.
The song that stands alone, outside the theme of mixed-up love, is the one that catapulted Winehouse to fame. Back to Black is full of songs about Winehouse's outward relationships with (presumably) men.
But "Rehab" is a song about Winehouse's relationship with herself.
It's not a pretty picture. And it was this relationship with herself that brought her to her death from alcohol poisoning in 2011.
Ten years on, how do we approach an album that so clearly predicts the creator's tragedy?
The question comes up repeatedly: Can you disconnect the art from the artist?
Can you listen to Chris Brown without repulsion from his abuse? Can you hear Kesha's "TiK ToK" without hearing the anguish we now know she has with recording?
Can you gleefully sing along with Winehouse rejecting an intervention, when we know an intervention could have saved her life?
Winehouse's uniqueness as a star came from the openness with which she approached the public.
It was by no means a calculated presentation. She cut herself open -- at times quite literally -- and showed us her insides.
The solitude, the wicked humor, the bloody ballet slippers, the numerous indiscretions, the pure shock at winning a Grammy and ultimately, the resignation: You know I'm no good.
An album is a portrait of a certain time in an artist's life.
Back to Black is a portrait of a young woman learning about herself. Winehouse was in her early 20s when she wrote Back to Black. Throughout the album, she is in a state of self-examination.
The songs feature Winehouse presenting a feeling ("this regret I've got accustomed to"), explaining the mechanics of a situation ("once it was so right") and then questioning herself ("I don't know why I got so attached").
She gives herself advice: "I shouldn't play myself again."
But she knows, inevitably, she won't follow it: "I'll be some next man's other woman soon."
And she questions, again and again and again, why she gives in to what she knows is self-sabotage: "not fuck myself in the head with stupid men."
Like any other young person, she is trying to figure herself out. She wants to understand why she keeps falling into the same traps, and she wants to figure out how to stop it from happening again. But all the while, she knows fully well it'll happen again.
When the single clear opportunity arises to stop her cycle of bad behavior, she rejects it with a rough, chuckling "no, no no."
Back to Black and John Legend's Once Again were released within a week of each other.
Both artists thrived on indiscretions. Once Again, like Back to Black, is littered with affairs and doing something you know you shouldn't be doing again and again and again: "knowing we should quit it, but we simply won't admit it again."
This followed the theme of Legend's first album, Get Lifted... but to a more frustrated (rather than frivolous) extent.
Gone was "You can't say I don't love you / Just because I cheat on you." In its place was the subdued anguish of "Again," trying so hard to quit bad habits.
The albums were released in the fall. By the following spring, we were inundated with the indiscretions of our favorite pop culture figures.
The year 2006 was the start of our national obsession with downfall.
A month before Back to Black was released, Paris Hilton was arrested for driving under the influence. The year 2007 saw Britney Spears shaving her head and Nicole Richie serving jail time.
By 2010, Perez Hilton was everybody's homepage, and Lindsay Lohan's alcohol-monitoring anklet was the hottest accessory.
All the while, we monitored Winehouse's alcohol and drug intake. We followed her tumultuous relationship with Blake. We tracked her as she tried to hide away in St. Lucia. We shook our heads at her disastrous June 2011 performance in Belgrade.
And then, that July, she was dead.
We haven't improved much.
We still giggle when Amanda Bynes tweets something strange or when Shia LaBeouf acts oddly.
We made party anthems out of Kendrick Lamar's "Swimming Pools" (a song about alcoholism), and Kid Cudi's "Pursuit Of Happiness" (a song about anxiety and depression).
We're still addicted to these downfalls, and oblivious to the humanity underneath them.
We have a tendency to see celebrities as nothing more than a source of entertainment. We ascribe narratives onto them – albeit, based on what they present to us – without considering the very real possible outcomes.
When they actually die on us, as Amy did, it's a shock... even though we all saw it coming. Perez Hilton changed his tone from a mocking "Blaaaake" to somber disbelief.
An album is a portrait of a certain time in an artist's life.
But the beauty of life is that we have growth.
Ten years later, it's a revelation to see how the downfalls that surrounded Winehouse have grown.
Lindsay is campaigning for Syrian refugees. Britney's Instagram is a delightful show of health and family. Nicole is a sober mother. Paris is a businesswoman who spends her time at clubs, working behind a DJ booth.
And what about John Legend, Amy's partner in throwback songs of indiscretion? He's now a married father, thoroughly encapsulating #RelationshipGoals and singing about being unbearably happy in love.
Rather than the portrait her death creates, when I listen to Back to Black, I try to hold on to the portrait she created on the record.
It's a portrait of exploration, of curiosity, of pain, of amusement. It's a portrait of potential... a portrait of life.
But more often than not, when I listen to Back to Black, I skip "Rehab." That's not a portrait I can look at for long.
Citations: ABC News