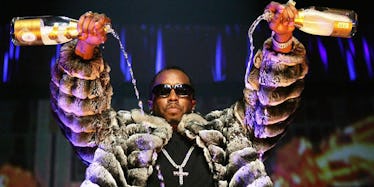 The 5 Richest Rappers In The World Made Their Money From Side Hustles
Tumblr
Forbes released its 5 Wealthiest Hip-Hop Artists Of 2015 list and we have a new number one.
With a net worth of $735 million, Diddy is only a few hundred Ms from bopping his way to the B-racks.
Following him is Dr. Dre with $700 million, Jay Z with $550 million, 50 Cent with $155 million and rounding out the list is Birdman, worth an estimated $150 million.
To put things in perspective, they're collectively worth 2.3 billion!
What's ironic about it all is the reason behind their monumental success isn't even what got them there in the first place.
On the quest to the billions, rappers used the same work ethic and hustle it took to get them ahead in the music industry, but it was what they did outside of music that left a lasting impression on their bank accounts.
This is how the five wealthiest rappers in the world made their fortunes without music.
1. Sean "Diddy" Combs -- $735 million
In The Game Since: 1990
Biggest Ventures: Bad Boy Records, Revolt Television Network, Sean Jean clothing, Ciroc, Aquhahydrate water and DeLeon tequila
There's not much Diddy ever couldn't do, but in 2015, he truly stepped his game up to a new level.
Puff stays busy by partnering with liquors like Ciroc, and launching alkaline water brands like Aquahydrate, with partners like Mark Whalberg.
Perhaps the biggest asset in his entire portfolio, though, is the multi-platform TV Network, Revolt TV, which could yield a huge sale price if he continues to build it up.
From starring in films to starting his own movie production company, and opening restaurants and clothing lines, Diddy can officially call himself the richest rapper in the world.
This was all, of course, made possible by his first baby, Bad Boy Worldwide Entertainment, which spawned the careers of the Notorious BIG and Faith Evans.
2. Andre "Dr. Dre" Young -- $700 million
In The Game Since: 1985
Biggest Ventures: Beats By Dre (duh)
Dr. Dre made history when he sold his Beats By Dre headphones company for a record $3 billion to Apple.
That became the biggest payout for any musician ever.
In 2008, the West Coast legend partnered with Jimmy Iovine and created the billion-dollar idea, which was originally meant to be a sneaker company.
According to Forbes, the pair would sell 51 percent of the company's stake to HTC for $300 million in 2011. However, Dre and his team of investors would take it back in 2013 for the sum of $500 million.
Before selling, the pair would disperse shares between Universal Music Group (that's why you see its ad placements in so many music videos) and other celebrity businessmen, like LeBron James.
With his shares diluted to about 25 percent, Dre made an estimated $500 million from the deal alone.
3. Sean "Jay Z" Carter -- $550 million
In The Game Since: 1990
Biggest Ventures: Roc Nation, Armand de Brignac Champagne and Tidal(?)
With wife Beyoncé worth $450 million, the pair could be hip-hop's first billionaire couple. They almost are!
As cofounder of the legendary Roc-A-Fella Records, and later Roc Nation, he went on to one of the most successful careers of any musician ever.
But, it was outside of music where Jay used his hustler mentality to really begin to take over.
His clothing line Rocaware sold for $204 million back in 2007, has a $150 million deal with Live Nation and not to mention every single one of his albums has gone platinum.
While his role as ambassador of the Brooklyn Nets seemed to just disappear, Hov is still, in part, responsible for bringing professional basketball to his borough. That just goes to show you the ridiculous influence he has even outside of his realm.
The next big question is whether or not the music-streaming service he purchased for $56 million, Tidal, will help put him over the top into billionaire status.
4. Curtis "50 Cent" Jackson -- $155 million
In The Game Since: 1998
Biggest Ventures: Vitaminwater, SMS headphones, Effen vodka and Frigo underwear
50 Cent is relatively new compared to other artists on this list, but his money has been catching up in just a short amount of time.
Since taking a hiatus from the rap game, 50 has become one of the most successful businessmen in all of rap by investing in Vitaminwater, which sold for $4.1 billion to Coca-Cola.
While his stake in the company was first reported to be 10 percent, it turned out closer to 2.5 percent. Still, he walked away with around $150 million from the sale.
Today, he's an executive producer for the Starz series "Power" and he recently invested an underwear company called Frigo.
He's also heavy into trading stocks, flipping real estate and was even involved with mining efforts throughout South Africa.
5. Bryan "Birdman" Williams -- $150 million
In The Game Since: 1989
Biggest Ventures: Cash Money records and Bronald Oil
The success of Cash Money Records in the 2000s helped propel Birdman to become the perennial Forbes List member he's become.
Even with Lil Wayne gone, he's managed to recruit even bigger stars like Drake, Nicki Minaj and now, Young Thug.
But beyond the music, Birdman is an even savvier businessman who reportedly even founded his own oil and gas exploration company, Bronald Oil and Gas, LLC.
Birdman has reached that status of wealth where he's pretty much Gucci for life.