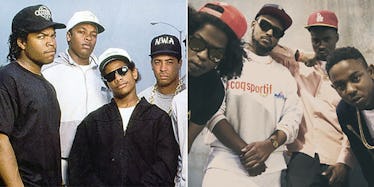 3 Reasons Why TDE Is The NWA Of Our Generation
Wiki Commons/Twitter
In the midst of the hype surrounding NWA biopic, "Straight Outta Compton," rapper Kendrick Lamar interviewed the hip-hop legends for Billboard's August cover story.
Lamar, a Compton-native who has now been crowned "the new king of the West Coast" by Dr. Dre, was reduced to a humble fan as he expressed his gratitude to even be in the same room as his idols.
Lamar told NWA's Ice Cube, Dr. Dre, MC Ren and DJ Yella,
"As one of your offspring, anything I do comes from what y'all have done before me."
Many hip-hop fans draw correlation between NWA and Top Dawg Entertainment (TDE), an independent record label of which Lamar is a part.
Lamar, along with TDE members, Schoolboy Q, Jay Rock and Ab-Soul, who are also members of supergroup Black Hippy, are all from rough neighborhoods in California, some even belonging to street gangs.
TDE's rap lyrics are best known for being forthright and raw, especially those written by Lamar and Ab-Soul. The rappers' blunt material sells, and they may have NWA to thank.
According to Ice Cube, the originals "opened the floodgates for artists who wanted to work on this side, artists who wanted to be raw."
Can we go as far as to say that TDE is this generation's NWA? I think so. Here are three reasons why:
They are the new voices of the West Coast.
In the mid-80s, hip-hop was still a culture primarily belonging to the East Coast, specifically New York City.
NWA didn't want to make records as radio-friendly as the new-school hip-hop making waves on top 40, but instead, wanted to tell real stories of what was happening outside their front doors.
The members helped popularize the hip-hop subgenre gangsta rap, delivering candid lyrics told from the side of the West Coast.
Today, TDE rappers feed hip-hop fans the same food for thought, now telling it from the perspective of the kids whose parents were fans of gangsta rap.
Their use of conscious rap lyrics surrounding gang violence, the crack epidemic and racism keeps the subject of African-American poverty on the West Coast at the forefront of our minds.
They speak in the language of social politics.
Whether they're rapping about survival or change, TDE is just as sociopolitical as NWA was nearly 30 years ago.
In his 2015 single, "Alright," Lamar's lyrics pertaining to the heightened awareness of police brutality in recent years echoes NWA's "Fuck Tha Police" chant from the 80s.
While Ice Cube's writing style on the "Straight Outta Compton" track is a lot less optimistic than Lamar's, both songs blatantly recognize the racial profiling that circulates Compton, California.
When they aren't baring the group as misogynists, NWA's lyrics are mostly chronicles slanted toward survival, which TDE's Schoolboy Q and Jay Rock have shadowed.
In songs, such as "Stay Blessed" by Schoolboy Q and "All My Life (Ghetto)" by Jay Rock, both rappers have recounted their experiences with being members of street gangs and dealing drugs.
Much of the songs on Lamar's album, good Kid, m.A.A.d. city, deal with him, a "good kid" growing up in the "mad city" of Compton.
Similarly, NWA's Straight Outta Compton explores that mad city from the worlds of five individuals who are products of it. Lamar's record details how the strength of street knowledge allowed him to maneuver and survive his Compton neighborhood.
On a deeper level, both groups take the issues of crime, violence and death occurring in their neighborhoods every day and use them to make a statement about the conditions of poor communities.
It's something middle- and upper-class Americans may otherwise show no interest in.
They are not afraid of controversy.
NWA never shied away from controversy and shock value, and TDE members have taken their influence to similar heights.
From Ab-Soul calling Obama a puppet to white supremacists, to Schoolboy Q encouraging white boys to say the N-word at his concerts, the rappers make it clear they will say whatever comes to mind.
More recently, TDE caused major controversy with the release of Lamar's music video and BET Awards performance for "Alright."
Lamar's award show act, which involved him performing on top of a vandalized cop car, brought about a lot of disputations, namely FOX News' conservative views of Lamar doing "more damage to young African Americans than racism (sic)."
Despite media's outrage, Lamar's provocative music video has been nominated for an MTV Video Music Award for Video of the Year.
The visual aid, which examines poverty-stricken communities and the police brutality that ensues, nearly mirrors the video for NWA's "Straight Outta Compton."
Both videos were hauled in controversy from the media, while simultaneously being a saving grace for some black communities.
In the years following NWA, hip-hop has continued to be an avenue for young black men growing up in the 'hood to express themselves, regardless of how the public may feel.
While the members of NWA have done and said things none of us should ever dare make excuses for, TDE brings the same rawness NWA did in the 80s, but this time, with a lot more smarts.
And thank God for it because it's exactly what hip-hop needs.