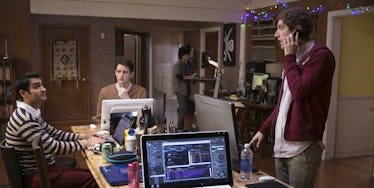 Non-Techies! 5 Signs You Have What It Takes To Work At A Tech Startup
HBO
Ah, senior year of college. It seems life can't get any better, but it's also hard to shake one thought.
You're not ready for the fun to end.
If you're anything like I was just 12 months ago, you're completely panicking right now. And the prospect of entering "the real world" is enough to keep you up at night pondering questions like, what am I even good at? You mean, I'll be sitting at the same desk every single day until 5 pm or later?
College is where you learn to seek out your own interests, think for yourself and solve your own problems. Leaving such an awesome place (possibly for a cubicle) seems pretty awful.
But what if I told you you can find a job that encourages you to think outside of the box, to continue seeking your own interests, thinking for yourself and solving your own problems?
And what if I told you this place could be a tech startup, and you could enjoy it, even though you're not a techie?
Believe me, I never thought I'd enjoy being in an office setting, but in my short time at a tech start-up company, I've learned more than I ever thought possible. I'm constantly surrounded by engaging people and work extremely hard. I've loved every minute of it.
Think this could be the type of job for you? Here are five signs you have what it takes to work for a tech startup:
1. You're proactive.
To work for a startup, you absolutely have to be self-motivated. No matter what department you're in, if you're working for a rapidly growing company, there will always be new jobs to tackle and things you can help with.
Whether it's a smaller task or something larger, like offering to take the lead on an entire project, showing initiative exponentially builds your value to the team.
2. You're creative.
Creative thinking and problem-solving skills are incredibly important in a startup environment. Complications you aren't expecting will routinely surface. When faced with a new challenge, you have to be ready to work hard and think outside the box to solve it.
For example, I recently needed photos for company blog posts. Thankfully, I took a few photography classes for fun in college (Thank you, liberal arts degree!), so I borrowed a nice camera from a friend and got the pictures we needed.
Sure, at first it was a little scary, and I would have been more comfortable if a professional photographer had been around. But, it was exciting to focus on taking a great photo and using my creative side to help out with something I never would've expected to do at the office, especially at a tech-based company.
3. You're a fast learner.
Working for a tech startup means learning a lot of new technology. (Imagine that!) Even though I'm a child of the Internet age, I was unaware of half the software tools I now use every day.
Within my first few weeks on the job, I was already learning new products that allowed me to develop behavioral email campaigns, and even screenwriting for video productions.
Although I didn't exactly pursue a career where I needed these skills, I've been able to adjust into this world. As long as you're willing to work hard and learn new skills, you will thrive in a startup environment.
4. You don't need constant oversight.
Like I've said before, it's important in the startup environment to be a self-motivator. But it's also important that you're able to produce good work without someone always having to look over your shoulder.
A startup by definition is growth-oriented, therefore, there is always opportunity to find a need, fix a problem and to do more without anyone holding your hand.
It's possible at any given moment, everyone around you will be working on completely different projects. Don't let that scare you, since that scenario comes with a lot of independence to manage your own projects.
5. You aren't afraid to be yourself.
Some of the most fun moments I've had on the job have come from seeking opportunities related to what I naturally enjoy. At a young startup, you'll have chances to grab projects that align with your interests, many of which you likely never thought you'd be able to pursue at "work."
Be yourself, and don't hesitate to jump on a task that allows your true self to shine.
The tech world isn't just for techies, and the startup world isn't just for dice-rolling entrepreneurs. I'm neither, and I couldn't imagine feeling more at home in a job.
There's room for people of all temperaments and talents. If you think you'd be a good fit, come join the fun!