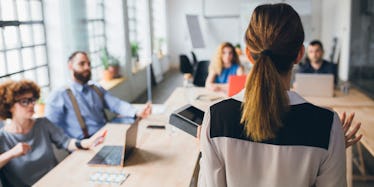 6 New Companies Solving Education's Biggest Problems
Lumina
We've all heard the theory that the most successful businesses have one thing in common: They identify a problem that people have and they solve it. If only it were that simple.
And while today's entrepreneurs have an endless supply of problems to choose from, one field that's particularly ripe with new startups is education-tech.
Businesses that strive to solve education-related problems are in a league of their own. They're working to improve a flawed, labyrinthian system, and, in doing so, they contribute to the betterment of society while investing in the hope for a better future.
That's why AT&T developed the AT&T Aspire Accelerator. With resources, professional services and networking opportunities, this program invests in young companies that rely on technological innovations to solve education challenges.
Here are six exciting companies that AT&T has teamed up with on their quest to solve problems for the greater good. Despite the huge challenges they face, these founders are charging forward.
1. Cogent Education
Founded by Tom Robertson, Cogent Education's mission is to improve the quality of high school science education.
Since launching, Cogent has created a groundbreaking teaching tool — dubbed SABLE — that allows teachers to track how their students are responding to critical thinking games, effectively giving them the ability to efficiently recognize difficulties and better assist struggling students.
The company is currently expanding to include other facets of science education, with early data suggesting this program has already had a significant effect on student performance.
And they're not doing it alone. Talking about Cogent's participation in the AT&T Aspire Accelerator, Robertson recalls a major win that they achieved early on: "We went to the International Society for Technology and Education conference and AT&T very kindly provided a booth for us, and...we actually won the pitch competition, which [was] a fantastic piece of publicity for us."
2. Couragion
After recognizing high school students' lack of accessibility in learning about careers in STEM — a term that refers to the combined fields of science, technology, engineering and math — Melissa Risteff started Couragion, a digital career planning resource.
Couragion provides students with career suggestions based on personality traits, and highlights diverse role models who work in corresponding STEM fields. In doing so, it makes students more knowledgeable and improves their performance, leading to better employment opportunities — years before they hit the job market.
Additionally, Couragion offers a teacher companion app so educators can tailor their lesson plans and teaching styles to students' unique needs and interests.
 3. CommonLit
Michelle Brown was spurred to found CommonLit when she learned about the staggering number (approximately 62 percent) of US high school graduates who don't have proficient reading skills. By partnering with teachers in their quest to help struggling students, CommonLit is working to address this systemic issue.
Through specialized lesson plans, an online database of reading materials and real data on students' progress, CommonLit connects teachers with the resources they need to help students succeed.
4. Bitsbox
Scott Lininger and Aidan Chopra are attempting to get young kids interested in coding by starting Bitsbox, a company that makes learning to code a game-like experience for school-aged children.
Using Bitsbox's monthly subscription service, kids build their own apps with a combination of books, trading cards, stickers and Bitsbox's supplementary online application.
The service is perfect for both home and school environments, and it's clearly working. Since the company's 2014 launch, its young users have spent more than 12 million minutes coding on Bitsbox.
And that number is only growing thanks to the AT&T Aspire Accelerator. Here's how Chopra describes the immense value that the program has brought Bitsbox: "What [AT&T] realized is that, with the given business model we have, we needed more channels, and...they've been really, really amazing to help us to explore new ways to sell the product that we already make...to even more people. And that's been really invaluable."
5. TalkingPoints
When Heejae Lim immigrated to the United States as a child, she saw firsthand the difficulty that her non-English speaking parents faced when it came to communicating with her teachers.
And so, years later, Lim founded TalkingPoints, a texting platform that uses translation services to bridge the language gap between teachers and parents. By lessening the communication barrier, TalkingPoints aims to help close the vast achievement gap that exists in US schools.
Texting as a communication medium levels the playing field: It allows parents who lack data plans or email access to have the same opportunity to engage with their children's teachers as other families.
And don't expect TalkingPoints' growth to slow down any time soon — Lim has high hopes for the future, especially considering the company's ongoing relationship with AT&T: "[The way that AT&T's] scale can help us in terms of our outreach and distribution has really taken our goals to the next level of scale, ambition and vision."
6. The Graide Network
Liz Nell and Blair Pircon co-founded The Graide Network as a direct response to the overworked teacher pandemic. They were reacting to the all-too-true fact that teachers' overwhelming workloads lead to a decrease in thoughtful feedback on student assignments.
The Graide Network's online platform connects educators and highly-qualified undergraduates training to be teachers. Using this service, teaching assistants (aka college students) help actual teachers with grading tasks. This setup not only provides students with speedy feedback, but also affords teachers the time they need to focus on what's happening inside their classrooms.
Watch this video and get inspired by these amazing entrepreneurs who are changing society as we know it. https://www.youtube.com/watch?v=3XuL-gFLq7g&feature=youtu.be