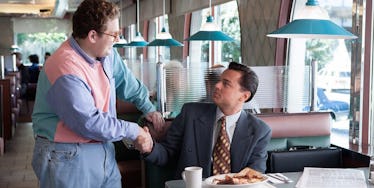 The 12/4 Rule: How To Make Sure Your Networking Is Actually Effective
Paramount Pictures
Opportunities arise left and right for everyone and anyone.
The perspective of the opportunity depends on what meaning is given to the outcomes of the opportunity itself.
When I was 23 years old, I saw the opportunity to do something unprecedented in my life. It was a chance to work in sports business and learn from top executives working with a professional sports team.
It's easy to sit around, submit résumés and expect your phone to ring or continue to refresh your email account until you receive the response that will transform your life.
Networking was the answer to all the questions I had regarding how I could get my foot in the door in the corporate world of professional sports.
Networking is not just a game; it's a way of life, an opportunity in itself. Not only did I use it to get into the sports industry, but also, there were countless times it became a factor in thriving in my own life.
So, here's the art of networking -- approach, if you will. Network with passion and you'll find it's as easy as it seems.
You might be asking yourself, 'Passion? What do you mean passion?' The idea is to find the passion in each networking event you attend.
Here are key questions to ask yourself before you attend any type of networking event:
- How could I make an impact in other people's lives?
- How could I help someone else's business thrive?
- Where do I see fit, the opportunity to build and maintain a relationship from the people I meet at the networking event?
Once you get in the mentality that attending the networking event is about impacting others in attendance, you'll start rolling.
At this point, I want to make things simpler for you. Here is a step-by-step formula you can use to impact other people's lives while simultaneously impacting yours.
Step 1: Game Plan (The 12/4 Rule)
We've already gotten into the mindset/concept that networking is about impacting others. When you walk through the door, you already know what your purpose is. This is a big step forward!
Now, for the sake of your understanding, I'm going to use a hypothetical networking event with random numbers to sum up the scope of this concept.
There's a networking event on Thursday evening. You have your business cards ready and you're looking sharp, yet feeling casual.
The event is expecting 30 people; find a way to see who will be attending the event and connect with them on LinkedIn or send an email prior to the event.
This creates facial/personal brand recognition and sparks the desire of other people approaching you (other than your smile, of course).
If you can't find out who will be there, that's okay.
Personally, I've created a 12/4 rule for myself, where I want to connect and get to know 12 people at the networking event within the one to three hours of being there.
Of those 12, I'll invite separate groups of four to coffee within the next three to six days.
Boom! Now we have a game plan.
Step 2: The Approach (How can I serve you?)
People love people who love them. So, simply show the people at your networking event some unexpected love.
If you're going to link up with 12 people, give yourself enough time to connect with at least those 12 (depending on how long you will be at the event).
The basics -- firm handshake, eye contact and speaking clearly -- should be mastered at this point. Within your relational approach, ask key questions that will open them up verbally and give you a chance to truly connect:
- What line of work are you in, and why do you do what you do?
- What are your personal and professional goals for this year?
- How do you obtain your clientele?
- How can I serve you in achieving your goals?
That last question is just as important as the first three, yet won't make as much of an impact without them. Be sure to listen and understand them. What they're saying is more important than what you're saying (in your head) about what they're saying.
Listen to them and only them.
Step 3: The Follow-Up
Chances are, you don't make the game-winning shot, hit the walk-off home run or make the hole-in-one without implementing the proper follow-through. Ask Michael Jordan, Derek Jeter or Tiger Woods.
In this instance, the follow-through will be following up. You've already made an impact and found out key details on how you can help those people thrive in their businesses and their lives.
With 12 people to work with, it's best to split them up in three to four groups and set up coffee meet-ups within the next three to six days. See if you can set it up at the networking event.
If not, follow up the next morning with an email or short text.
Step 4: Your Very Own Personal Network
Now that you've created three to four mini-networking groups from one networking event, you've become a networking platform.
The idea is to put as many people in front of other people who could give them business or clients.
You're giving other people intimate/personal time with other people from the networking event with whom they might've not connected.
People will begin to recognize you as the connector, someone who is the go-to person when they want to be introduced to a desired connection.
At the meet-ups, give everyone an opportunity to introduce themselves and simply state what they're looking to achieve. If you remember them, state them yourself. Start asking everyone how you can all help each other in achieving these goals.
At this point, for me, I've put everyone else in a position to succeed and build their own personal networks, built credibility for my personal brand as a connector and set the standards high to hold each other accountable to hitting our goals.
Watch the referrals start pouring in your way; they did for me and they will for you. You help others; they help you. Everybody wins.
I've become so passionate about putting others in the best position to succeed in their personal and professional lives, I've recently switched from working with a National Football League team to becoming a personal and professional development speaker, coach and consultant.
All this stemmed from attending a sports networking fair several years ago.
Passion goes a long way, every time. Who will you be serving today?
Check out Joe's original videos on motivation and networking.