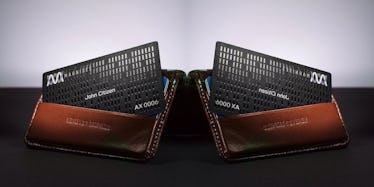 Magnises Is The Black Card That Helps Millennials Build The Best Network
Facebook
More and more Millennials are moving into America's big cities, where life is fast-paced and the hustle never stops. In these hyper-competitive environments, networking is essential. But the rapid nature of daily life in these concrete jungles can make it difficult to find a convenient place and time to meet the right people.
This is where Magnises comes in, the black card for Millennials.
Launched by 23-year-old Billy McFarland around 18 months ago, the black card is designed for young professionals looking to expand their network in a social atmosphere.
Magnises operates in New York City and Washington DC, with thousands of members in multiple member spaces, and are in the process of expanding to Chicago and Boston.
The black card can be linked directly to your credit or bank account and for $250 a year (or $25 a month), Magnises members gain exclusive discounts and access to the company's member spaces and events around the city.
Membership also comes with a personalized recommendation-based mobile concierge app, among other benefits.
As McFarland explained in a recent conversation with Elite Daily, Magnises is designed to help facilitate brand connections:
We're rebuilding the whole idea of a concierge for Millennials… The real value is community and networking. The way those connections happen are two ways. First we operate a member space in the city… Second we have all these perks and benefits at events throughout the city.
The company has already gained a reputation for throwing some pretty incredible events. Recalling a recent party involving a private concert with Rick Ross, McFarland stated:
For all of the events the mantra is really the same: It's all about creating a new experience you couldn't have unless you're a part of Magnises. ...It's all about forming these connections with all these one-off experiences you probably wouldn't have access to without Magnises.
It seems celebrities have been integral to the formulation of the Magnises brand, with McFarland noting the rapper Wale helped with the DC launch and "Ja Rule has been a huge help in growing our brand."
While Magnises might come off as too exclusive, McFarland argues that's really not the end goal. When it comes down it, he says it's more concerned with building a mutually beneficial social community for Millennials.
The company has grown pretty rapidly, gaining $3 million in revenue since its start. With enthusiastic leadership and an evident appeal to Millennials in the city, the future seems bright for this young company.