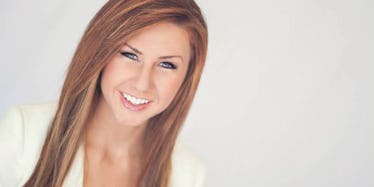 Why 'Entrepreneur' Is The Most Desirable Millennial Position
What would the 13-year-old version of you say about your life today? Would he or she be excited about your kick-ass job, proud of those you call your friends or wonder what happened to the big dreams you once had?
I ask myself this question often. It is an instant gut-check to remember who I am.
When I was 13, I was one of those obnoxious preteens who knew exactly what she wanted to do when she grew up. My first choice was to be a Spice Girl. Being neither British nor musically gifted, I settled for my second choice.
I watched "Mr. Smith Goes To Washington" and decided I was going to change the world through politics. I studied public policy in college and started working on campaigns immediately after graduating.
After a tour through California, Washington and Hawaii, I was accepted as a Senate fellow in the California State Legislature to work on education policy. At 22, I had landed my dream job.
I worked with my best friends, lived in a posh little apartment downtown and felt like the legislation we were creating was making a difference. Although still not a Spice Girl, I had even been crowned Miss Sacramento County USA. I was on top of the world.
After spending the summer of 2012 at Oxford, working on my graduate degree, I returned to discover my boss was not running for reelection. (Read: I was unemployed.)
For the first time in my life, I, the serial overachiever, didn't have a plan. But, I believe everything happens for a reason.
When I received a phone call requesting me to join a media startup in Virginia, I knew I had to take it. I didn't have experience in media, but have had a long-time passion for communication and saw this as opportunity to expand my horizons.
I packed up everything I had in two overstuffed, leopard suitcases and 14 days later, I was on the opposite coast.
Before leaving, a friend of mine gave me some of the best advice I have ever received. She said, "Gabrielle, no one will be as disappointed as you if you fail." And, she was right. It didn't take long for our little startup to join the cemetery of could-have-been companies.
And, I was back among the unemployed.
Rather than commencing round two of the overachiever identity crisis, I went back to what sparked my 13-year-old imagination and moved to Washington, DC.
Throughout high school and into college, I was fascinated by what inspired our generation and why we are drawn to particular causes, candidates and companies. Yes, I was that kid constantly asking, "Why?" I wanted to know why we leave corporate jobs to start non-profits, why startups are so romantic to us and why we believe business can be both beautiful and beneficial.
Not only that, I wanted to help other generations better understand the "why," as well. The world saw us as entitled job seekers, unmotivated couch surfers and technology-addicted kids. That's not the Millennial generation I know.
On both coasts, I experienced a generation that is creatively philanthropic, innovative and collaborative.
Everything happens for a reason. I was at a conference last September when someone asked what one word brings a smile to my face when I say it. My answer was "generations."
I had just written a blog post about the five myths our parents and employers believe about Millennials. Through writing it, I discovered it was this passion to bring people together that had inspired me to pursue politics.
I thought about doing something more with my blog, but not necessarily a book. I didn't doubt my ability to write the book, but I lacked a sense of urgency. But, I realized if I didn't share my message, no one would.
It turns out I can't back down from a dare. I did my first beauty pageant at 16 after a friend dared me to walk in four-inch heels. And, it was a coincidental encounter that dared me to write my book, "5 Millennial Myths: The Handbook for Managing and Motivating Millennials."
Do you want to know the secret of writing a book? It's simple and can be summarized in two words: Write it. Or, maybe it isn't a book, but it's a piece of art you want to paint. Paint it. Or, it's the app you want to design. Design it.
Now, at 25, I dared myself to start a company that would focus on helping generations work better together.
I call myself an accidental entrepreneur because I wasn't planning on starting a company. I had never taken a business course and didn't know the difference between a C Corporation and an S Corporation (turns out, they're not the same). But, I realized I didn't have to be Jimmy Stewart's character in "Mr. Smith" to make an impact.
I started The Millennial Solution to pursue my passion, not to pay my rent. I created my own job because the job I wanted didn't exist. Now, I train and consult companies on how to engage with Millennials.
Other generations might start companies to make money. Millennials are launching startups to make a difference.
If I listened to my critics, who said I was too pretty and too young to be a serious businesswoman and not pretty enough to be a serious beauty queen, I wouldn't have gotten anywhere.
I don't have all of the answers, and most days, I feel like my life is a reality show fighting for ratings. I will be the first to admit every day is a struggle. It doesn't matter what you're wearing; paying bills isn't sexy.
So, I have learned to balance projects that keep me dreaming with projects that keep the lights on. Being an entrepreneur isn't a hobby, it's a calling. Coffee and concealer are my saving grace, and I love it.
I am on a mission to bridge the generation gap and empower my generation to discover its internal entrepreneur. I am now working on my next book about Millennial entrepreneurs and featuring stories of individuals who are doing business differently.
If you know someone who has an awesome story I can feature, visit www.millennialsolution.com/nominate.
So, what does the 13-year-old version of Gabrielle think? She's a little upset POGS were a fad, but thrilled Justin Timberlake is hotter than ever. And, she's pretty stoked about Gabrielle's life, too.
Gabrielle Jackson is a Millennial Strategist and author of "5 Millennial Myths." She also a recovering beauty queen and is addicted to bedazzling everything.