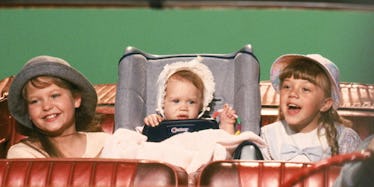 How My Childhood Acting Career And Journalism Job Hunt Feel The Same
Full House
It's July, and I graduated from college nearly 60 days ago. As much as it pains me to admit, I'm still jobless.
Sh*t.
Naturally, I'm starting to feel frustrated, discouraged and fidgety.
As I sit at my childhood desk in my parents' home, obsessively checking my email every two minutes for job prospects, I've come to a few conclusions.
First, the only companies that seem to be interested in emailing me are LivingSocial and Edible Arrangements. Second, I should have listened to everyone who said there are no jobs in journalism. And, finally, this job hunt is looking a lot like my childhood acting career.
To answer your first question, yes I had a childhood acting career. Well, sort of. I spent several years of my youth in acting classes, singing lessons, on auditions and in a few, nonetheless groundbreaking, gigs.
Between tap and jazz to improv and voice, it seemed like every other day I was trying to perfect (and find) my set of skills.
Similarly, the past four years at the University of Florida were spent lugging my oversized MacBook to class, where I'd yet again try to perfect and find my talents. I dabbled in reporting, editing, photography, web design, etc.
The hope, in both acting and writing, was that I'd build a skillset strong enough to market myself as the next best thing.
After the lessons came the agent. There was now someone to represent, guide and help me through the foreign land of showbiz.
This person sounds a whole lot like the few mentors I've befriended over the past few years. Just how the agent gets your foot in the door, so does your former internship supervisor.
"You have to know people," my grandma never fails to remind me.
Next came the headshots. Perfectly combed and coiffed, I'd pose on Santa's sleigh and in a plethora of other 1990s-inspired costumes and getups.
Although I've ditched the props 15 years later, the perfect LinkedIn picture is still crucial. It must be professional with a touch of personality.
Then, the résumé: It must be detailed, but not too long; eye-appealing, yet not distracting.
The foundation was now set. Bring on the prospects.
I soon began jetting off, or in this case being chauffeured in my mother's mini van, to auditions in the tri-state area -- Baltimore, Philly and even the Big Apple. My elementary school teachers began wondering why I left early nearly every week.
The job hunt has proved to be quite similar. I've been flying, busing and training to NYC at any given time, all with the hope that, maybe, somebody will throw me a bone.
I even took a four-hour bus ride twice in one day for a 25-minute interview. The start-up company didn't have an empty meeting room at the time, thus business commenced in the mailroom.
And they say the magazine world is glamorous. Ha!
Once at the audition, I'd meet with the casting directors — aka, human resources professionals or editors. We'd chat and they'd ask me questions like, "Why should we pick you for this role?"
We'd have a great conversation, with laughs and jokes, and I'd feel pretty good about things.
Come to think of it, auditions and job interviews are exactly the same.
Then came the actual performance: a song, monologue, dance routine or even improv. A few brief moments were all I got to wow the directors. Today, that performance takes place in the form of the dreaded edit test.
"Pitch us five story ideas; rewrite these headlines; tell us what time of the day these articles should be posted online."
The edit test, just like the performance, is the worst part of it all because of its overall vagueness.
Do you want it like this or like that? If only I could have just a few more minutes to practice or ask a few more questions, I'm sure I could nail it!
But, you can't because they honestly just don't have the time, and on top of it all, there are hundreds of other candidates waiting outside who can do it better.
So you leave and return home, weary-eyed and in a daze, basically blacking out the entire thing. Then, the wonderful waiting game begins.
In my acting days, this involved me rushing home each day and listening, as the answering machine explained how I just didn't have the vocal range for the part.
Nowadays, my Gmail inbox kindly informs me that my "writing voice" just isn't quite right for that particular publication.
But, in most cases, days pass without any word. There's no email -- nothing. At least in the olden days, people would pick up the phone to tell you that you weren't chosen.
Not in journalism.
And the worst part of it all? You think you've formed such a strong connection with these people that if and when they deliver the bad news, it almost feels like they're breaking up with you.
What do you mean I wasn't selected? We both love iced almond lattes and "Scandal!"
I'll always remember the day I landed my first (and only) acting gig. First, came the call: It was me who they wanted. Then, the news: I'd be starring in a Wendy's commercial eating fried chicken. And, finally, the screams, tears, hugs and kisses. I did it.
Though it seems like I've chosen a career field that, yet again, is based on pure luck, timing, connections and a whole lot of rejection, I'm confident that just like that first gig — my big break in journalism — will be well worth the wait.