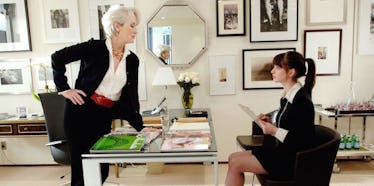 8 Important Things I Learned From Jobs That Paid Me Next To Nothing
Never underestimate the powerful impact a low-paying job can have on you for the rest of your life.
Every job has worth and social value and each one comes with important lessons.
If you haven't landed your dream job yet, you can know, rest assured, that you're still learning worthwhile skills that can and will help you with future jobs and your everyday life, too.
Here are some examples of how helpful these gigs can be:
An education can save a life.
I worked as a babysitter in my first job. The scariest moment during my years of caring for children was the day a child choked under my watch.
The toddler choked on a piece of fruit and literally turned blue.
Fortunately, I had taken CPR classes through school and the Girl Scouts.
In those classes, I learned that this child was too young for the Heimlich maneuver. Instead, the protocol was to strike the child on the back.
I did just that and he coughed up the food lodged in his throat. I don't know if he'd still be alive today if I hadn't educated myself.
A smile gets you much further than an eye roll.
As a teenager, I worked as a hostess at a popular new restaurant.
The restaurant had wait times of up to two hours, so I had to deal with a lot of unhappy and impatient customers.
I learned very quickly that rude customers take much better to smiles than they do to eye rolls.
One small bad decision can end your life in an instant.
I got stuck working the overnight shift for a wire service in Chicago during my first job as a reporter.
My office was on the South Side of Chicago, and I spent my nights listening to the police scanner for breaking news.
The most frequent stories that broke during the night were gang-related shootings or fatal car accidents.
At the break of dawn, I headed to the morgue to pick up the new medical examiner cases. Almost every day, corpses from the shootings or car accidents greeted me at the morgue's back door.
I saw way too many young adults lose their lives because of one fateful decision to join a gang instead of obtain a job, or one fateful decision to drink and drive or drag race instead of obey the law.
I also learned that driving the speed limit as opposed to speeding 10 to 20 MPH over the limit could be the difference between life and death.
Act silly.
I worked as a camp counselor for several summers.
Even on my rainiest days, the children could always make me smile. Children are carefree and love to act silly.
I found that acting silly with them always put me in a better mood, and to this day, I try to act silly and it never fails to improve my mood.
Don't dumb yourself down.
At one of my first TV news internships, my boss gave the entire staff a lecture about how technology is dumbing people down.
He said that cell phones don't require you to remember important phone numbers and luxuries, like spellcheck, prevent us from retaining information.
He's right; don't rely on technology. Commit important numbers to memory and when you don't know how to spell a word, look it up and memorize the definition.
Stand up for yourself.
I've been discriminated against in the workplace, and I've also witnessed others deal with some form of harassment.
Whenever a boss has mistreated me, I've always stood up for myself; one time, I even quit a job after I stood up for myself. I ended up landing a much better job with people who treated me with the respect I deserve.
Most people have more respect for a person who stands up for him or herself. And if not, they don't deserve to have you as an employee.
Be just as kind to the employees below you as you are to the ones above you.
The people working below you are just as important as the people above you. They lift you up, make you look good and let you shine.
When I worked as a waitress, I tried my best to be kind to all of the busboys.
I knew that the faster they cleaned my tables, the more time there would be to seat customers at my table and, in effect, I'd make more money.
Laugh at yourself.
When I worked as a news intern, I went to the White House for a press event. I learned a big lesson during the first press conference I attended with the former President of the United States.
It was his first press conference as President, and within the first few minutes of his speech, he flubbed a word. Some of the big network White House reporters began to laugh out loud.
At first, I was mortified for the President. However, instead of turning beet red, he brushed off the mistake by coming back with a joke and laughed at himself.
The White House reporters went from laughing at him to laughing with him.
The President taught me the importance of not sweating the small stuff, and to never take yourself too seriously — even if you happen to be a leader of the free world.