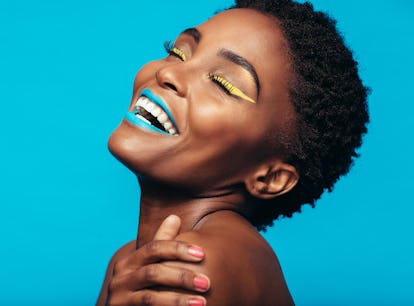 Why We're Running To Try The First Skin-Care Launch From This Beloved Black-Owned Brand
Jacob Lund/Shutterstock
BIPOC-founded Juvia's Place is famous for its highly inclusive makeup, which comes in an impressive array of rich, beautifully pigmented shades for all skin tones — and in epic packaging to boot. Now, lo and behold, the brand is officially making its first foray into skin care with its brand-new, aptly named line: Juvia's Skin. The thoughtfully designed, 12-piece collection is solution-oriented and backed by a powerhouse blend of high-performance botanicals and ingredients proven to really work. Just like their makeup, the coveted new collection is ultra high-quality and made for all skin types and tones, with accessible price points ranging from $16 to $45. Take it from us: There's not one product in this line that's just meh — each one is truly excellent in its own way. Get the lowdown on each skin care gem, ahead.
Like a fresh green juice for your face, this gel cleanser utilizes ingredients that quench skin and flush away impurities. The cushiony formula gently removes oil, dirt, and makeup — but instead of feeling like you have to immediately moisturize afterward, your complexion will feel hydrated and plump. That's all thanks to moisture attracting hyaluronic acid and glycerin, soothing aloe vera, and sunflower seed oil, the latter of which is known for its acne, inflammation, and redness treating properties. Another plus? It doesn't use harsh surfactants like many other gel cleansers, so it's a great go-to option that you can wash up with morning and night.
This nourishing cleansing balm swoops deep into pores to break down makeup and grime in mere seconds. But it doesn't stop there: Exfoliating pineapple enzymes slough away dull, rough skin cells and leave your complexion looking luminous. It's also got a nice dose of mango seed butter, so after you're done cleansing, your face will stay feeling velvety soft. We love to use this one at night to ensure we're properly removing makeup, dirt, and even pollution.
Dark spots? We don't know them thanks to this supercharged niacinamide serum. Niacinamide is a derivative of vitamin B that is kind of like the teacher's pet of skin-care, because there's little it can't do: It reduces inflammation, acne, and pore size, all while fading hyperpigmentation and balancing oil production. If you've got really stubborn sun damage or spots, know that this serum will work for you, too. In addition to niacinamide, kolic acid works to lighten up deeply embedded dark marks and discoloration.
When it comes to dewy, hydrated skin, you'd be hard-pressed to find an ingredient that delivers better than hyaluronic acid does. If you're not already familiar, it works by grabbing water molecules from the air and trapping them into your complexion. It also holds 1000 times its weight in water, which means it's going to plump up your skin and fine lines faster than a TikTok.
Beauty sleep in a bottle! Your skin regenerates and repairs as you sleep, and this serum works synergistically with that natural process so you wake up to smoother, more luminous skin. Hyaluronic acid hydrates and prevents moisture loss as you snooze, while vitamin B5 firms up your complexion and smoothes fine lines. If your complexion is on the drier side, we suggest skipping the morning face wash and just applying moisturizer and SPF to capitalize on the benefits even more.
This serum is about as non-negotiable for us as coffee in the morning. A cool 20% vitamin C acts as a wake-up call for your skin, boosting brightness and radiance the moment you smooth it on. It's also going to fade darkness and scars from the sun and acne, leaving your skin tone significantly more even-toned and clear. It basically acts as a bodyguard for your complexion, keeping damaging environmental stressors like pollution and UV rays away.
If you've been a vitamin C devotee for a while and want to take the benefits up a notch, this serum is for you. It contains a whopping 25% vitamin C, which is about double the amount you'd find in other products. Besides all the great benefits of the vitamin, at this percentage, it's going to really rev up collagen production, iron out wrinkles, and resurface skin for a serious glow. If you're worried about dryness or irritation, don't be: Sodium hyaluronate — essentially a tinier molecule than hyaluronic acid — is able to drive deep into the skin to keep it moisturized and calm.
OK, now this is cool. You've heard of exfoliating peel pads, right? Well, these are vitamin C pads: All the amazing benefits of vitamin C, in a handy wipe that you can swipe over your face daily or whenever you need a little instant brightening boost. In addition to vitamin C, you've got nourishing vitamin E and hyaluronic acid, too. Tip: Don't forget to bring this pad down over your neck and décolletage to deliver the treatment to these areas, too.
All the best chemical exfoliators in the skin care game, distilled into a pad: AHAs and BHAs team up to buff away the outermost surface of skin so lines, darkness, and pores are less apparent, while also helping to clear up congestion. PHAs are super mild exfoliators that are ideal for people with rosacea and eczema, providing gentle exfoliation without irritation. To offset any potential inflammation, the brand added chamomile and lavender extracts, both of which impart calming, coddling botanicals.
Toner gets a bad rap for being drying, but this one is meant to boost the vibrancy of skin rather than act as an astringent. It's made with sugarcane-derived glycolic acid, a chemical exfoliator that melts away old skin cells that do nothing for your complexion, boosts clarity and tells your skin to produce more collagen. Aloe vera moisturizes, and chamomile calms, so your face feels fresh and moist — not tight and irritated.
What's better than a product that hydrates skin as it firms and smoothes it? This multitasker is powered by ceramides and peptides, both well-known skin care stars. Ceramides build up the barrier of your skin so that moisture stays in and irritants stay out, and peptides are amino acids that firm and erase lines sans any irritation. Supporting actors like shea butter and hyaluronic acid keep skin plump, soft, and smooth.
Get that glazed donut look with this non-clogging oil that can be used on its own or layered on top of lotion to lock in hydration. Squalane, a plant-derived oil that mimics our skin's natural oil moisturizes and makes your skin freakin' gleam but won't clog pores or lead to a breakouts, while moringa oil reduces the look of fine lines and wrinkles.