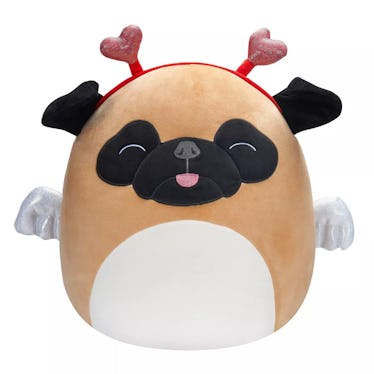 Where To Buy Valentine's Day 2023 Squishmallows Online & In Stores
Nothing says "I love you" like the cutest, huggable plush.
We may receive a portion of sales if you purchase a product through a link in this article.
Whether you're celebrating with a partner, your besties, or just keeping it casual at home with your pet, Valentine's Day is a day that's all about sharing the love. You show your affection with kind gestures, sweet sayings, and of course, Valentine's Day gifts. If your loved one is a collector of all things Squishmallows, you'll definitely want to know where to buy Valentine's Day 2023 Squishmallows online and in stores.
Even if you're just adding to your own collection, a Squishmallow is a great self-love gift idea for Valentine's Day. They come in a variety of sizes and characters depending on your interest, plus they're just as cuddly as the perfect bear hug. Since certain popular plushies can be difficult to locate, it's helpful to know where to find Valentine's Day Squishmallows before you start going from store to store. Luckily, there are quite a few adorable little friends available online, so you can shop from your couch.
Since Valentine's Day is right around the corner, now is the best time to shop for 2023 Valentine's Day Squishmallows to make sure everything arrives before Feb. 14. Here are some of the cutest Valentine's Day Squishmallows for 2023 that you can "add to cart" right now if you're totally smitten.