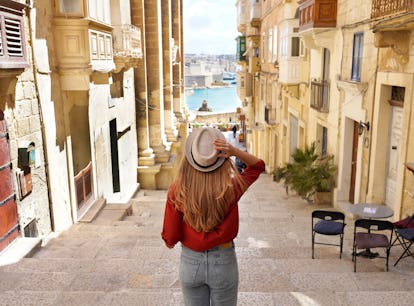 When To Book 2023 Flights & Vacation Rentals For Spring Break & More
Shutterstock
Let's be honest: As much fun as it is to travel it can be a hassle, from flight cancellations to long TSA lines. After a busy holiday season, even more traveling is probably the last thing on your mind. But if you want to save money, it's all about your planning game. On Jan. 17, travel companies Vrbo and Expedia revealed key dates you should keep in mind when you book flights, vacation rentals, and hotels to avoid overpaying or missing the window for booking. If you're a spontaneous traveler, planning could make the difference between securing your dream vacation home or having to pay exorbitant amounts for a hotel. Here's when you should book by to sail smoothly through your 2023 travel bucket list.
Have you ever checked flights but waited too long to book and now they're double the price? I know I have. It puts a damper on your vacation when that $80 flight is now $160. To prevent that from happening, Vrbo and Expedia pinpointed eight deadlines by which you should lock in your flights and vacation rentals to save you big time and big bucks.
It might seem early to have your trip booked months in advance, but it's one of the best ways to secure your spot. "All of these dates are two weeks earlier than they were in years past," Melanie Fish, head of Expedia Group brands public relations said in a Jan. 17 press release. "Those two weeks can make or break snagging a coveted mountain cabin for a spring break ski trip or a beachside cottage for that annual summer vacation."
When To Book Rentals During Busy Travel Seasons
Vrbo is known for its private rentals that are entire homes, instead of sharing with other travelers. They have rentals all over the world from unique stays, to beach villas, and ski lodges. To have a wider selection of rentals and and price points to choose from, Vrbo recommends travelers booking by the following dates:
Spring Break: Book by Jan. 30
Memorial Day Weekend: Book by April 6
Summer: Book by April 17
Fourth of July Weekend: Book by May 10
Labor Day Weekend: Book by July 14
Thanksgiving: Book by Oct. 6
Ski Season: Book by Oct. 16
Winter Break: Book by Nov. 3
When To Book Flights During Busy Travel Seasons
There are so many hacks to snag cheaper flights, but one of the best ways to save is to book early. according to Expedia, the best time to book domestic flights is a month in advance of your trip, and up to six months in advance for international flights. It could save you 10% on fares, according to Expedia's 2023 Air Travel Hacks report. You can also use the Expedia app's Price Tracking and Prediction feature to check if you're getting the best flights possible.
Similarly to rentals, you should book by the same dates to secure your seats for the best price. Key dates to note are July 4 and Thanksgiving, according to Expedia. For Fourth of July, Expedia suggests avoiding flying out the Friday before and instead, travel on the Sunday or Monday before the holiday. For Thanksgiving, the "sweet spot" is to start booking as early as September for the November holiday.
When To Book Hotels During Busy Travel Seasons
Unlike vacation rentals and flights, there isn't a clear-cut "book by" date for hotels, according to Hotels.com. However, if you're looking for accommodation for events where you know hotels will be in high demand (like a music festival or sporting event), you should look to confirm your booking a month or more out, per a Hotels.com spokesperson. If that seems early, you can filter "fully refundable" hotels to find properties with flexible cancellation policies so you're not locked in when plans change.