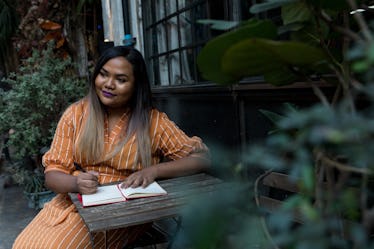 15 Things You Would Write In Your Diary If You Had One Today
The one place where you could spill all the tea.
If you kept a diary as a kid, it was probably full of secrets and thoughts you didn't want anyone else to see. Maybe you had color-coded gel pens to represent your mood and aesthetic, or doodled your crush's name in all the corners. Picking up this habit again today may feel a bit silly, especially if you're not sure what to write in a diary as an adult. While you may not be dishing on the gossip you overheard during third period, you're never too old to put your thoughts in a diary or notebook of your own.
Doing so can even relax you or help alleviate anxiety you may be having. Journaling can also help you remember every little detail of those days you never want to forget. It all depends on what purpose you want your diary to serve. Since there are tons of things to write in a diary, like your favorite quotes, dreams, and travel destinations, your first step is deciding on what you want to keep. You could even make it a super secret diary full of tea you need to spill, and for that you need to know what to write in your secret diary.
To get you started, head to a cozy cafe or get comfy on your couch, grab a pen (preferably of the gel variety), and jot down any of these 15 things you can write in your diary.
This article was originally published on