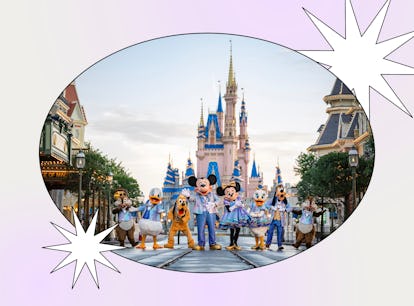 Are VIP Tours At Disney Parks Worth $3K? A Breakdown
Being treated like a Kardashian has its perks.
Disney/Elite Daily
Anyone who has ever been to Walt Disney World or Disneyland will tell you that a trip to the theme parks requires some pre-planning. This is especially true if you want to hit up every ride on your to-do list, try all the snacks you've been craving, and still have time to shop for some Mickey Mouse ears. Even with tons of planning, you may not get to everything you want. This is where splurging for a VIP tour at the Disney Parks can help. However, Disney's private VIP tours are not cheap, which might make you wonder if it's worth splurging on the package.
I got to experience being a part of a VIP tour at Disneyland that was magical, but there are a few factors you should take into consideration before reserving one. If you've ever been to Disney and have seen a group of people following a cast member in a plaid outfit, that's a VIP tour. As part of your experience, you get your very own VIP Tour Guide, who will take you everywhere you want to go in the park for that day. Not only will they lead you around, but they can also help you bypass the standby line for attractions, get you snacks while you're riding, and point out Disney easter eggs along the way. You'll truly feel like royalty at Disney, but you'll need some royal savings to make it happen.
How Much Is A VIP Tour At Disney?
The price of a VIP tour at Disney changes depending on when you're going, and ranges from $450 an hour to $900 an hour. You can expect to pay more during the busier times of the year — aka peak season, which is usually in the summer and around the holidays.
The price of your tour also doesn't include admission to the park. You'll need to pay for that as well, and make your own park reservations. If you'd like to park hop, which means you can go to any of the four theme parks at Walt Disney World in one day, you'll need to spend a little more on your ticket. One-day park tickets are also based on seasonal prices. For just one park on an off-peak day, your ticket starts at $109 per person. However, the most expensive day with a park hopper option can cost as much as $252 a person. When I went, I was an annual passholder so I didn't have to worry about paying for a ticket on top of the price of the VIP tour. This was also back in 2017, so ticket prices were a lot cheaper.
Since Disney requires you to book a minimum of seven hours for your VIP tour with up to 10 people in a group, you're looking at $8,820 or $882 per person during a peak day at Disney World. If you manage to book something during a slow day and you stick to just one park, that'll cost about $4,240 or $424 a person. When you think about how the most expensive park ticket is around $250, $424 really doesn't sound that bad — especially with all the perks.
What Is The Disney World VIP Experience?
Reserving a VIP tour at Disney World is the closest you'll get to being treated like a Kardashian. In fact, back when Kim Kardashian was accused of photoshopping her Disneyland day pics, she was being escorted around the park with Disneyland's VIP experience. Oftentimes, when a famous actor or musician is visiting Disneyland or Disney World, a cast member wearing plaid is not too far away, because VIP tours are basically celeb treatment.
While you may not love the looks you get from guests trying to guess if you're actually a celebrity or just someone who splurged on a VIP tour, I loved feeling like a Kardashian for a second. I highly recommend wearing sunglasses and a baseball cap if you want to trick people into thinking you're someone famous going incognito.
At Disney World, before you even get to the park, you'll be picked up from your Disney World hotel (if you're staying on property) and escorted into either Magic Kingdom, Animal Kingdom, EPCOT, or Hollywood Studios. That means you won't have to worry about getting on the crowded monorail or waiting forever for the right bus to show up. Since Disneyland is pretty walkable, you don't get the luxury of a personal driver but that's OK. Instead, you can go from park to park a lot quicker if you're doing the park hopper option.
Once you're in the park, your personal VIP Tour Guide will take you wherever you'd like to go. Forget waiting in a line, because your guide can get you priority access on all the attractions you want to see. Most of the time, you'll be using the Lightning Lanes for these attractions, so you may have to wait a bit. However, unlike paying for Genie+, you can go on these attractions whenever you'd like. You don't have to wait for a certain time to come back, which means you can always just return when a Lightning Lane is less crowded.
While you're riding, your tour guide can grab snacks for you so you can have a Mickey pretzel when you get off. The tour also includes VIP seating and viewing areas for the shows at each of the parks, like fireworks and parades. According to TikToker @_victorialeon_, you'll also get a discount on merch, and your tour guide can go shopping for you while you're on a ride. All you need to do is tell them what you want, and they'll get it for you.
Your guide can also provide water throughout the day, according to TikToker @lesleyetp, and your experience gets you free ponchos when it's raining. If you've ever been to Central Florida, you know there's almost always a daily rain shower, so ponchos are needed. Another perk is that your guide is there to take all of the photos you need. No more awkwardly asking strangers to snap a pic of your entire group in front of the castle.
Along with all these pros, there is one con that TikToker @disneydarcy points out that could be a red flag for foodies. Since you're paying per hour, you might not want to stop for a full meal during your VIP tour. While your tour guide can make reservations for you, you'll get the most out of your experience by just snacking throughout the day and hitting up every attraction you can. If you are only reserving seven hours, you can always make a reservation at the end of the day to refuel or in the morning for a large breakfast that'll keep you going.
A Review Of The VIP Tours At Disney
I've never been on a VIP tour of Disney World in Florida, but I think my experience at Disneyland is comparable. Disneyland's VIP tours are $500 to $700 an hour with a seven hour minimum for up to 10 people each. For just one-park, tickets start at $104 a person for off-peak days. For the cheapest VIP experience, you're looking at $4,540 or $454 a person. If you decide to get park hopper tickets that allow you to go into both Disneyland and Disney California Adventure Park, which is what we did, your tickets will start at $169 and go up to around $244 on busy days. All together, you'll spend about $7,340 or $734 a person.
There are so many factors that can make or break your experience. For instance, if you're going with a large group to make it more budget-friendly, make sure you pick a group who wants to do everything you do. Basically, you don't want to go with people who are slow if you want to hit up every thrill ride on property. At the same time, if you aren't a roller coaster person, you don't want to be left behind while everyone else is having fun. I definitely had a hit or miss time because my group was half people who wanted to do everything, and half people who wanted to take it slow. Since I've been to Disneyland a few times before, I wasn't too concerned, but it would have been nice to really use all the perks the VIP experience has to offer and try to ride everything.
My friends also stopped for a very long lunch. Since you're with a large group, sit down restaurants will take longer to get through, so I highly recommend doing the snack method. After all, you go to Disney for the churros and Mickey-shaped pretzels, right? A nice meal before or after is a great compromise.
Overall, I found the experience to be something every Disney fan should do at least once. Even if you've been to the parks a million times, getting the VIP treatment is one-of-a-kind. Not only do you get to see some behind-the-scenes areas and hear fun facts from your guide, but that feeling of being treated like a celebrity is unmatched. If you can manage to get nine of your besties to commit and you go during the off-season when it's slightly cheaper, getting a VIP tour at Disney World is definitely worth it.