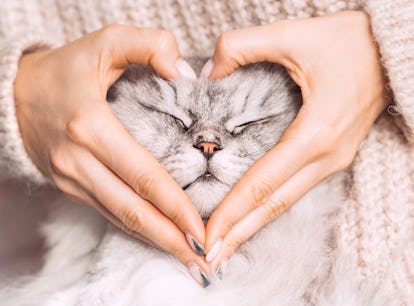 33 Purrrfect Instagram Captions For When Your Cat Is Your Valentine
For when you've got felines for your fur baby.
Shutterstock
When Valentine's Day arrives, it only makes sense that you want to express your love to every person and pet in your life. And let's be honest: if anyone's been there for you over the years, it's your cat. So go ahead and pick out a cute Instagram caption for when your cat is your Valentine to show your feed you're full of felines.
It's probably safe to say that you have plenty of Instagram-worthy cat photos just waiting to be posted on your camera roll, so the options for a cute Valentine's day post are endless. You could opt for one of your furry BFF the day you brought them home, with a caption like, "I've been smitten for this kitten since the beginning." Or you could post a super cute selfie with your fur baby, and tell the world you can't wait to spend all nine lives with this one. If that isn't true love, I don't know what is.
At the end of the day, it doesn't matter how you tell the world about your purrrfect Valentine — it's just that you do. Your cat may not remember, but you'll love looking back on that super sweet cat Instagram post over the years. Plus, it's a lot of fun to see all your other fellow pet lovers tap the like button and leave sweet comments. Just find a sweet photo of your fluffy friend, then scroll through these adorable cat Instagram captions for your Valentine with four paws.
"All you need is love and a cat."
"I'm so fur-tunate to have this kitty on V-Day."
"Celebrating the purrrfect Valentine's Day."
"The cat's in charge. I just live here."
"The road to my heart is marked with paw prints."
"I've got a lot of felines for you."
"This one is claw-fully cute."
"You had me at meow."
"I cat help falling in love with you."
"I want to spend all nine lives with you."
"I love you, meow and furever."
"Happy Valentine's Day to my fur-ever love."
"Whiskers are forever."
"No home is complete without the pitter patter of kitty feet." — Unknown
"Love is a four-legged word."
"I've got this lovin' feline."
"Meow chicka meow meow."
"We are litter-ally the cutest together."
"V-Day is paw-some with this one around."
"It ain't easy being this purrrfect."
"Cuteness overload."
"You're the cat's meow."
"Cats are not our whole lives, but they make our lives whole." — Roger Caras
"I'm a smitten kitten."
"Guys? Whatever. Cats? Forever.
"Cats, naps, and snacks."
"Cats over humans."
"You're the purrrfect valentine."
"When all else fails, cuddle with the cat."
"My heart is covered in paw prints."
"Sorry, I can't, I have plans with my cat."
"This is my furry tail."
"As anyone who has ever been around a cat for any length of time well knows, cats have enormous patience with the limitations of the humankind." – Cleveland Amory