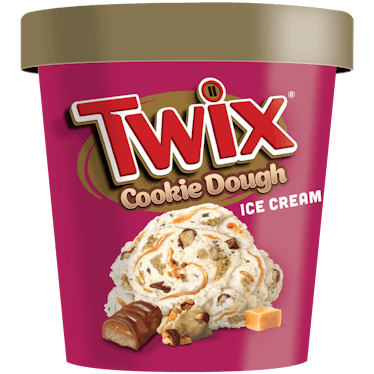 Twix Cookie Dough Ice Cream Review: It's A Twist On A Classic
Don't sleep on the caramel swirl.
Courtesy of Mars
No matter where you fall on the left Twix vs. right Twix debate, there's a new ice cream flavor featuring your favorite caramel and cookie candy bar that should be on your radar. Inspired by the Twix Cookie Dough bars from 2022, the new ice cream combines the crunchy goodness of a Twix bar with soft and chewy pieces of cookie dough. If you're unsure whether the bite will meet your sweet tooth standards, this Twix Cookie Dough Ice Cream review breaks down everything about the new flavor, including how it tastes and where to buy it, so you can spoon it up for dessert ASAP.
Twix's new Cookie Dough bars, which includes a new cookie dough-flavored layer, began popping up in stores in December 2022, but why stop there? It may sound too good to be true, but Twix Cookie Dough Ice Cream is 100% real, and cookie dough loyalists will definitely want to keep it stocked in the freezer. This Twix twist on a classic flavor swirls the candy bar bites, cookie dough chunks, and caramel into creamy vanilla ice cream. The flavor was announced by Mars on Jan. 12, alongside new M&M's Cookies and Cream Ice Cream Cookie Sandwiches and Dove Mini Stacks Vanilla Ice Cream with Dark Chocolate and Almonds.
Twix Cookie Dough Ice Cream began rolling out to stores in mid-January. Elite Daily editor Collette Reitz got to preview the new flavor, and it seems like the flavor will be a win for some people, and a letdown for others.
What's In Twix Cookie Dough Ice Cream?
Each 16-ounce pint features real chopped Twix bars, cookie dough bites, vanilla ice cream, and a caramel swirl, because why not.
Twix Cookie Dough Ice Cream Review
According to Reitz, this is an equal-opportunity pint: Twix stans and cookie dough lovers will find something to like, but beward that one is definitely more prominent. "There were so many chunks of cookie dough that I had to look at the carton to remember I was supposed to be eating Twix ice cream," say Reitz.
If you're only in it for the Twix pieces, you might want to adjust your expectations. Reitz shares there weren't many Twix Caramel Cookie Bar Pieces in her pint, but she did find "one or two that really tasted like the candy bar," which, I guess, counts for something.
The cookie dough might be the star of the show, but the caramel is a close second. In fact, Reitz very much appreciated the "judicious use" of the add-in. "Too much caramel can ruin the whole vibe, and this one had the perfect amount swirled in the ice cream," she says. (OK, I'm back on board.)
"I can't say I really got Twix vibes as I ate, which was surprising," Reitz says. "But I can say I very much enjoyed every bite of it and nearly ate the whole container in one sitting." Overall, she compares it to an amped-up cookie dough ice cream.
Where To Buy Twix Cookie Dough Ice Cream
If the lack of Twix pieces isn't a dealbreaker for you, you can find the new flavor rolling out now where you usually buy ice cream, and it'll be widely available at retailers nationwide starting in March 2023. The 16-ounce pints are available for suggested retail price of $4.49. You can use the Twix store locator to find a store near you that's stocked with the goods — it's not on the locator as of Jan. 20, but according to Mars, it should be back up soon.