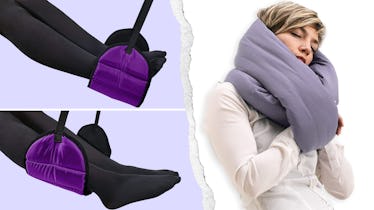 20 Unique Travel Accessories That Make Long Trips Way More Comfortable
There's no reason to suffer in your seat.
We all know how important it is to pack all the essentials for a big trip, but honestly, half the battle is just getting to your destination. When you're packing for your trip, you want to be sure to include all the things you'll need to ensure you arrive refreshed and stress-free so you can start your trip off on the right foot. Luckily, these 20 unique accessories that make sitting on a plane more comfortable will get you from Point A to Point B with minimum hassle.
If you're thinking that these travel-friendly items are just more bulky neck pillows and sleep masks, think again. These unique travel accessories have you covered from head to toe to ensure that you're as comfortable as possible when you're in that tiny airplane or car seat on your way to vacation freedom. There's everything from candy that'll help stave off motion sickness to neck-massaging pillows that help you get some self care in while you fly.
Let's be real: it's not exactly comfortable to sit in a tiny seat for hours on end. There's no avoiding that part, but that said, you don't have to suffer in complete misery, either. These truly unique travel accessories can help alleviate some of the pain, and you can show up to your vacation relaxed and ready to have a good time.