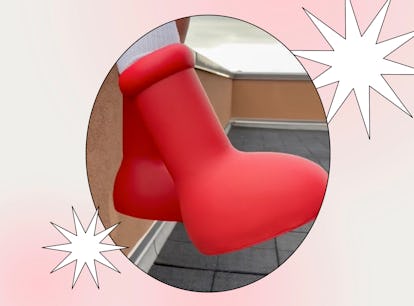 Are MSCHF's Viral $350 Big Red Boots Worth It? TikTok's Obsessed
We've reached peak clowncore.
By now, you've likely seen the viral MSCHF big red boots on TikTok. They're kind of hard to miss. Made to look cartoonish like Astro Boy's boots, these red rubber shoes will definitely add a pop of color to whatever 'fit you've got planned. But are MSCHF's viral Big Red Boots worth their $350 price tag? If you're cool with wearing shoes that give off both Ronald McDonald and Boots from Dora the Explorer vibes, you may think yes. However, it's kind of hard to justify spending $350 on statement shoes you'll only wear once or twice.
That's, of course, if you can actually get these shoes off your feet. If these viral MSCHF boots have come across your FYP, it's likely because you've seen a video or two of people struggling to take them off. In MSCHF's description of the Big Red Boots, it says "Big Red Boots are really not shaped like feet, but they are extremely shaped like boots." Whatever that means, it's clear that boot-shaped shoes not specifically designed for human feet are extremely difficult to remove IRL. In fact, it looks like it's more than a two-person job to remove the Big Red Boots, according to TikToker @boweryshowroom.
If you were hoping to take your shoes off after a long day of going to work or running errands, think again. These boots took TikToker @offwhitehoodie 30 minutes to take off. To try and avoid getting stuck in your shoes, some TikTokers recommend just sizing up a bit. TikToker @stevenatto24 did a test run in MSCHF's viral red boots to see if they're comfortable, and found that they run a bit small. To avoid any issues, @stevenatto24 says to "go with your true size or go up to the next size." With the right size, you'll find these shoes are quite comfortable, like your fave Uggs or Crocs. It may just take time adjusting to the boots' height and oversized shape.
How To Buy MSCHF's Viral Big Red Boots
Still considering snagging these Big Red Boots? Well, you'll want to be ready for the drop on Feb. 16. The boots will be available starting at 11 a.m. ET on both MSCHF's website and their sneakers app. Even if you don't plan on keeping the Big Red Boots, it may be smart to try and get them to resell — if you have $350 to spare. The MSCHF boots are already listed for over $1,000 on eBay.
When the Big Red Boots sell out — which they likely will — you can expect those numbers to go up. For anyone who decides to buy MSCHF's red boots and keep them, there are plenty of outfit inspo videos on TikTok for ideas. You may think giant red boots would clash with just about any OOTD, but TikToker @jaadiee proves that's not the case. With over 13.2 million likes on his TikTok of how to style the big red boots, you can see these shoes can be worn any number of ways.
Tuck them into your jeans for when you want to showcase your boots with a simple 'fit or wear them under your pants with a matching red beanie. These boots will even look cute worn with black leggings or a denim mini skirt for a mix between clowncore and Y2K fashion.